Virtual Credit Cards: Corporates' new best friend?
Spending on virtual credit cards (VCCs) has surpassed corporate card expenditure for the first time in 2019, according to the Research and Markets business credit card report. Additionally, a new study by Juniper Research estimated that the global value of virtual card transactions will reach $6.8 trillion in 2026, representing a 370% increase from 2021. Businesses will account for 71% of total VCC transaction value, as preference for the convenience and security of virtual cards over costly and time-consuming methods grows over time.
Is it necessary for your company to use virtual credit cards (VCCs)? What should you know to help your company avoid fraud and take advantage of VCC benefits? In this article, we'll address those concerns by presenting the features of a VCC and explaining how it varies from a typical corporate credit card.
What is a virtual card?
Unlike a typical credit card, a virtual credit card is not a physical object. It's a temporary and random set of 16 digits. It's typically used to buy a single item using your smartphone or PC, and it's generated online within seconds. Each time you use it, the disposable number changes, and it expires when it is no longer in use.
A virtual credit card connects to but does not replace, your actual credit card account, so the charge you make on a VCC still pops up on your regular credit card statement.
What does it look like & how is it generated?
The electronic image of a VCC resembles that of a regular credit card, but it contains a number string that looks like this: xxx xxx xxx xxx 1234. The "x's" stand for a random collection of numbers that hide your actual credit card number from fraudsters. The cards also feature a three-digit card verification number and an expiration date.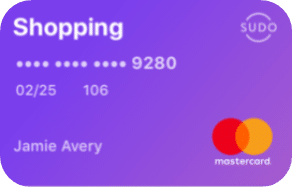 Users may be able to get a virtual card number through their online account management site, depending on their bank or card issuer. They can set spending limits on each virtual card number they get and set unique expiration dates (typically no more than 60 days) using their current account to protect themselves from abuse, fraud, and overspending. Virtual credit cards are offered by a variety of major financial institutions, including Visa, American Express, Citibank, Capital One, and MasterCard (which operates its own virtual credit card service).
If you have a credit card, you may already have access to a virtual card number. To find out, simply log into your online bank or card account and search for "Virtual Card Number" or "Virtual Account Number."
Can you get a virtual credit card with no deposit?
As previously explained, a virtual credit card number is connected to an existing account with cash or a credit account with a line of credit. Users are given the option to create the virtual credit card as a single-use or multi-use card, with an expiration date of their choosing. They are also given the option to place a spending limit on the card, which allows them to access cash from their current account in a more structured and controlled manner.
What's the difference between digital wallets and virtual credit cards?
A digital wallet works similarly to a virtual card, with a few noteworthy distinctions. Apple Pay and Google Pay, for example, store a digital version of your physical credit or debit card, including full card details. Digital wallets are considered a safe payment method since most digital wallets generate a temporary card number, similar to a virtual card, guaranteeing that your actual card number is never shown to a retailer. However, digital wallets are not accepted everywhere. Unlike virtual cards, which may be used for any online purchase that accepts credit cards, digital wallets can only be used at participating stores, whether online or in-store.
VCC advantages
Security:
Global credit card fraud losses totaled $28.58 billion in 2020, with projections to reach $49.32 billion by 2030. Given the magnitude of these numbers, security should be a priority for all companies. Virtual credit cards help prevent fraudsters from stealing your company's credit card information or hacking into your online transactions. Why? because VCC numbers are meaningless to fraudsters. The growth in corporate credit card fraud, as previously mentioned, is a driving reason for growth in the VCC industry. A JPMorgan survey of over 8,000 professionals found that VCCs were only targeted by scammers in 3% of the cases, while corporate credit cards were attacked in 34% of the cases.
Low fees and costs:
Most virtual card issuers don't charge customers anything more for the service, and it allows them to use a new asset without having to open a new account.
Seamless Payment Method:
There are various levels to the exceedingly complicated structure of domestic business payments. The sheer number of payments made and received by each company is the first layer of complication. According to Juniper Research, the average North American company makes 2,275 domestic payments in a single year. With so many small firms in North America, the average number of payments made by major corporations will exceed 100,000 every year, which works out to more than 270 payments every day.
Given a large number of payments, the effort of handling these payments is massive, and the number of channels involved adds to the complexity. There's also the issue of payment terms and deadlines, which differ from one vendor to the next. Other factors, such as invoice factoring or supply chain financing, may also further complicate the process. Fundamentally, this means that controlling payment flows is a difficult problem that demands a significant amount of resources.
Virtual cards often allow additional transaction data, such as payee reference numbers, transaction category data, etc., to be linked to records, which is a crucial advantage for business operations. This speeds up payment reconciliation for both A/P and A/R procedures.
Expense Management:
Businesses can use VCCs to get more control over their employees' expenditures. When an employee travels on business, they can estimate the cost of the trip and establish a VCC spending limit accordingly. For example, if the estimated amount is $1,000, the employee can request a $1,000 VCC from the corporation. By establishing spending limits on employees, a VCC reduces the financial risk to the company.
VCC adoption challenges
Like other innovative technological applications, virtual credit cards present their own set of challenges:
Vendor adaptation:
The fact that not all vendors are ready to take payments via virtual methods is a significant barrier. This problem occurs most frequently when purchasing goods or services from businesses that demand a physical card as proof of identity to prevent fraud, such as hotels that require visitors to provide a physical card at check-in or fax a credit card authorization form to confirm their reservation. However, as the payment industry evolves, many suppliers are making greater efforts to handle virtual payments, and major credit card networks have begun to offer mobile wallets for corporate use, implying that virtual credit cards will combine with mobile wallets in the not-too-distant future.
Returns & Refunds:
This point is not particularly limited to companies, as individual consumers also face the same issue. With virtual credit cards, returning products ordered online to a real store might be difficult. This is because some retailers ask customers to swipe or enter the card used to make the transaction in order to process any refund. This certainly isn't possible with a virtual credit card. In some situations, customers may have to accept store credit rather than a refund on their credit card.
Recurring payments:
recurring payments such as subscriptions may be affected by virtual credit cards with short expiration dates. To keep the subscription active, users have to update the virtual credit card information each time it expires. If they forget, the subscription may be suspended, requiring customers to repeat the process with a new virtual credit card number. However, some virtual credit cards could be easily set up with a specific spending limit and the preferred recurrence (for example, monthly or quarterly).
Company migration:
For some businesses, implementing virtual credit cards might be a difficult task. Companies that sign up directly with a payment partner will work with them to develop this payment mechanism on the technical side. Employee training following the rollout is another challenge for some organizations, especially those in industries that have long depended on more traditional payment methods.
To sum up, virtual cards are gaining in popularity and are an excellent way to make safe payments. They are especially useful in business settings where a large number of employees require company cards, which are more expensive to operate with physical equipment and may be more vulnerable to manipulation and fraud. Virtual card numbers are one option for companies to manage finances and transactions with increased spending controls and reporting features while eliminating security concerns on both sides of a transaction as privacy becomes more essential. However, like any new technology, virtual credit cards have their own set of obstacles that might hinder some companies from using them based on their payment needs.
Author: Mariam Elmaghraby
Sources
https://www.juniperresearch.com/press/virtual-card-transaction-values-to-increase?ch=370%
https://www.juniperresearch.com/researchstore/fintech-payments/virtual-cards-market-research-report
https://www.paymentsdive.com/news/card-industry-faces-400b-in-fraud-losses-over-next-decade-nilson-says/611521/#:~:text=Fighting%20fraud&text=Global%20card%20fraud%20losses%20of,2019%2C%20per%20the%20Nilson%20report.
https://cdn2.hubspot.net/hubfs/418036/WP_Sage_AP_Automation_virtualcreditcard-jul2017.pdf
https://www.forbes.com/advisor/credit-cards/virtual-credit-card-numbers-guide/
https://www.axerve.com/en/learn/insights/virtual-credit-cards
https://www.creditkarma.com/credit-cards/i/virtual-credit-card
https://www.avidxchange.com/blog/virtual-credit-cards-what-they-are-why-theyre-so-popular/
https://www.cnet.com/personal-finance/credit-cards/what-is-a-virtual-card-and-how-do-you-use-it/