The Development of Virtual Real Estate in the Metaverse
While virtual worlds have been around for quite a few years, it is only recently, following Facebook's rebranding as Meta, that significant attention has been brought upon what have come to be called metaverses. Believed to be the next phase of the internet and possibly even a future complementary reality to our physical world, metaverse worlds are gaining momentum. With this rise in popularity, much attention has been focused on a particular aspect of these virtual worlds: real estate and virtual land ownership.
Metaverse Property as Land Parcels
Metaverses are virtual worlds or spaces, where users can socialize and interact through avatars, with features that often gamify social interactions while simulating real-world environments. Some metaverses also allow for VR integration, providing a more immersive experience for their users.
A distinctive feature of Metaverse ecosystems is their use of well-elaborated economies, backed by their own crypto-based currencies. This allows their users to purchase in-world items and assets that hold real monetary value. Chief among these assets is virtual real estate, represented by parcels of land parcels that constitute the respective metaverses, and can be freely traded among its users. These land parcels are NFT-based assets and are traded on decentralized platforms, such as Opensea or Nonfungible.com, that allow property exchange across metaverse worlds.
A select number of metaverses have been frontrunners in this space, providing their users with the ability to buy virtual lands and construct houses or buildings on their proprietary parcels, with only their imagination as the limit.
These parcels of land hold value, and are increasingly seen as investments, for two main reasons:
First, despite being in virtual worlds, land parcels are limited in supply (the exact number and size of parcels vary widely by platform).
Second, users can monetize their parcels, which allows them to generate revenue from their virtual land assets.
The Frontrunners
Currently, the most prominent decentralized metaverses are Decentraland, Somnium Space, Sandbox, and CryptoVoxels.
Decentraland
Decentraland is a completely decentralized virtual world, built on the Ethereum blockchain, wherein users can socialize, play, or exchange virtual goods, using its cryptocurrency MANA. Users can even vote for changes they would like to see in the metaverse, through an open organization, the "Decentralized Autonomous Organization". Decentraland is currently divided into 90,601 land parcels, each of which measures 16×16 meters.
Somnium Space
Somnium Space is a more immersive metaverse, offering its users the opportunity to explore the world with their VR headsets, in the metaverse's built-in VR mode. Its decentralized currency, CUBE, allows users to purchase one of the 5,026 purchasable land parcels available in the metaverse. These parcels come in sizes ranging from small, to extra-large, measuring 200sqm and 10 meters in build height at one extreme, and 1,500 sqm and 50 meters in build height, at the other.
The Sandbox
The Sandbox is another metaverse where players can own, build, and monetize their virtual assets. Users can shop for parcels of land using its currency SAND, and as of December 15, 2021, could choose from among the 74% of parcels still available for trade.
CryptoVoxel
This virtual world is distinguished by its pixelated Minecraft-like aesthetic, and as of November 4, 2021, its users could buy choose among a maximum supply of 5,919 parcels. This metaverse platform has so far carved out a unique space for itself by hosting several well-received art exhibitions and galleries.
So far, these Metaverses have been the main playing field for large businesses as well as individual users. PwC recently acquired parcels in The Sandbox, while retailer Adidas now owns 144 parcels on the same platform. Governments are getting in on the act as well, with Barbados recently becoming the first to establish a virtual embassy, following its move into Decentraland.
A Booming Virtual Market
In the past few years, virtual worlds have seen a surge in land prices, with some registering millions of dollars in record spending. In June 2021 Reuters reported that a patch of virtual lands in Decentraland was sold for more than $900,000 to the virtual real estate fund Republic Realm. More recently, in November 2021, Tokens.com set a record by buying 116 parcels in Decentraland valued at 618,000 MANA, equivalent to $2,400,000 at the time of acquisition. Tokens.com completed the acquisition through its subsidiary Metaverse Group, which bought the land parcels in the Fashion District of Decentraland, as a strategic acquisition aimed at hosting fashion projects and events, in partnership with players in the Fashion industry.
Digital real estate trading is also extending into the realm of video games. The blockchain-based game Axie Infinity, for instance, recently sold an in-game land plot for 550 ETH, valued at $2.5 million at the time of acquisition.
The rush of investors towards virtual land has seen the price of virtual parcels skyrocket.
Based on exchange data from the platform 'Nonfungible', the average price of asset transactions across the major metaverses has seen a considerable increase over the past two years (Figure 1).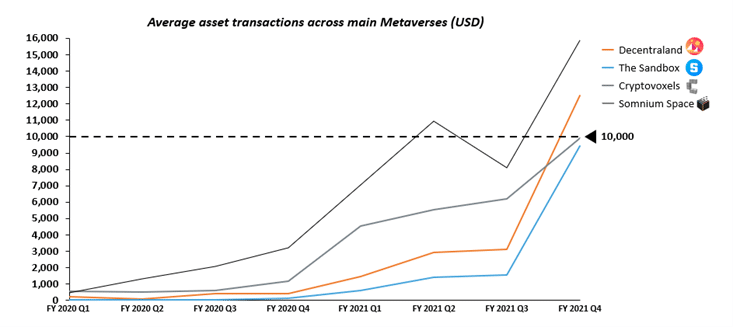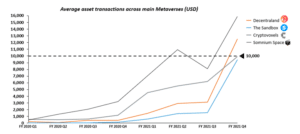 Although land parcels constitute the main items traded in Metaverses, virtual token transactions are becoming more diversified, and now encompass avatars, estates (sets of multiple land parcels), and all types of virtual equivalents to everyday items.
As data from 'Nonfungible' shows, the average value of exchanged virtual assets had jumped to thousands of dollars in each of the main metaverses, by the end of 2021, compared to just a few hundred dollars in early 2020. Facebook's recent announcement of its rebranding to Meta has given more visibility to existing Metaverses, further boosting both their asset prices and currencies. Decentraland has seen its average asset transaction price jump from as low as $200 in the first quarter of 2020 to more than $12,000 during the last quarter of 2021. Not only has the value of its land parcels risen exponentially, but so too has its cryptocurrency, surging 164% after Facebook's announcement. Although the current crypto crash has devalued several metaverse currencies, the parcels market, and virtual tokens more generally have shown no signs of a slowdown in recent months.
Looking Forward
Metaverse worlds and their applications are still in the early phases of their development, but the underlying virtual real estate market has, nevertheless, seen real development in recent years, experiencing a sustained boom in parcel prices.
Whether investors are eagerly rushing in because they believe in the future value of these virtual assets, or out of simple fear of missing out, is a matter of ongoing debate. What is undeniable, however, is that a very real, albeit virtual real estate market, has rapidly matured over the past two years. Aside from parcel trading, companies like Metaverse properties or Republic Realm are now providing virtual real estate development to their clients along with virtual property management solutions.
More broadly, the idea that the Metaverse is shaping up to be the internet's next great frontier, is rapidly gaining traction, with several tech companies and governments taking concrete steps to develop Metaverse-related applications. In addition to Facebook's rebranding, Microsoft recently announced plans to integrate a metaverse mode, 'Mesh', into its 'Microsoft Teams' productivity tool. Nike sent a clear statement on the company's willingness to enter the virtual universe with its acquisition of virtual clothing brand RTFKT, in December of last year. The Korean government has gone a step further by announcing a digital metaverse vision 2026, aimed at making South Korea the 5th largest Metaverse market by 2026.
The shift towards the Metaverse is still in its early stages. The technology and ecosystem will likely see further integration with software and hardware still in development – such as rapidly developing VR and AR technologies – and this, in turn, will likely trigger the integration of further verticals in the foreseeable future. What verticals these might be, however, and how they will compare with virtual real estate, remains to be seen.
Khawla Jaidi
Sources
https://www.businesstimes.com.sg/real-estate/investors-snap-up-metaverse-real-estate-in-virtual-land-boom
https://www.bloomberg.com/news/articles/2021-03-19/virtual-land-prices-are-booming-and-now-there-s-a-fund-for-that
Metaverse properties Decentraland
Metaverse properties Somnium space
Metaverse properties the Sandbox
Metaverse properties Cryptovoxels
https://nftplazas.com/somnium-space/somnium-space-map/
https://nftplazas.com/decentraland/decentraland-land/
https://stealthoptional.com/metaverse/the-sandbox-land-how-much-land-is-left/
https://www.cryptovoxels.com/about
https://nftplazas.com/cryptovoxels/cryptovoxels-land/
https://www.bloomberg.com/news/articles/2021-12-14/barbados-tries-digital-diplomacy-with-planned-metaverse-embassy
https://www.lifestyleasia.com/bk/gear/tech/what-is-decentraland-digital-real-estate/
https://futurism.com/virtual-real-estate
https://www.nytimes.com/2021/11/30/business/metaverse-real-estate.html
https://finance.yahoo.com/news/most-expensive-virtual-plot-land-185000712.html?guccounter=1&guce_referrer=aHR0cHM6Ly93d3cuZ29vZ2xlLmNvbS8&guce_referrer_sig=AQAAAKkSEoD2k62cSGIO_hYTdqF1-ArB7dGx5z1qsTRr4Z1GMSplzpTHZjSo98q8kUTnLaycu5MleC9XUFDFU2BStONpwajzJywNX3f1Rrnh5wzWirckl7Q-7B05LAPBidn7fMsXjz4FP91Vzrz02eE0N4jOLpHGCD3doa1qcNI7KnUm
https://blog.bitnovo.com/en/what-is-cryptovoxels-the-minecraft-of-nft/
https://www.vox.com/recode/2021/12/2/22812608/metaverse-real-estate-meta
https://www.consultancy.uk/news/30011/pwc-buys-virtual-land-nft-in-the-sandboxs-metaverse
https://www.republicrealm.com/digital-real-estate
https://www.theblockcrypto.com/linked/125497/axie-infinity-plot-of-virtual-land-sells-for-record-2-4-million
https://currency.com/adidas-dives-in-the-metaverse-buying-lands-on-the-sandbox
https://nypost.com/2021/10/31/decentralands-mana-virtual-reality-cryptocurrency-soars-following-facebooks-rebrand/
https://markets.businessinsider.com/news/currencies/metaverse-1-trillion-opportunity-grayscale-virual-land-sales-decentraland-2021-11
https://www.korea.kr/news/policyNewsView.do?newsId=148898285
https://www.forbes.com/sites/jackkelly/2022/01/23/the-metaverse-is-the-web3-wave-that-democratizes-buying-and-building-real-estate-hosting-fashion-shows-and-monetizing-video-gaming/?sh=2a11a176751f
https://techxplore.com/news/2021-10-facebook-hire-eu-metaverse.html