Bank branches: The beginning of the end
US bank branches could become extinct by 2034 if current branch closure plans don't change, according to a study published by Self Financial. This past decade has seen the progressive closure of physical banks and the global pandemic seems to have accelerated this trend worldwide. In the UK, over 4,300 branches closed since 2015, representing a 44% decrease. Northern European and Baltic countries recorded some of the biggest declines in the number of bank branches per 100,000 adults in the last few years. A well-known example for this is Danske bank which decided to close down all banking activities in Estonia, Latvia, Lithuania, and Russia; in addition to closing 50 branches in Northern Ireland. The United States had 83,060 branches in 2012, but just 77,647 in 2018 – a loss of 5,413 branches, or 6.5%, according to Self's figures.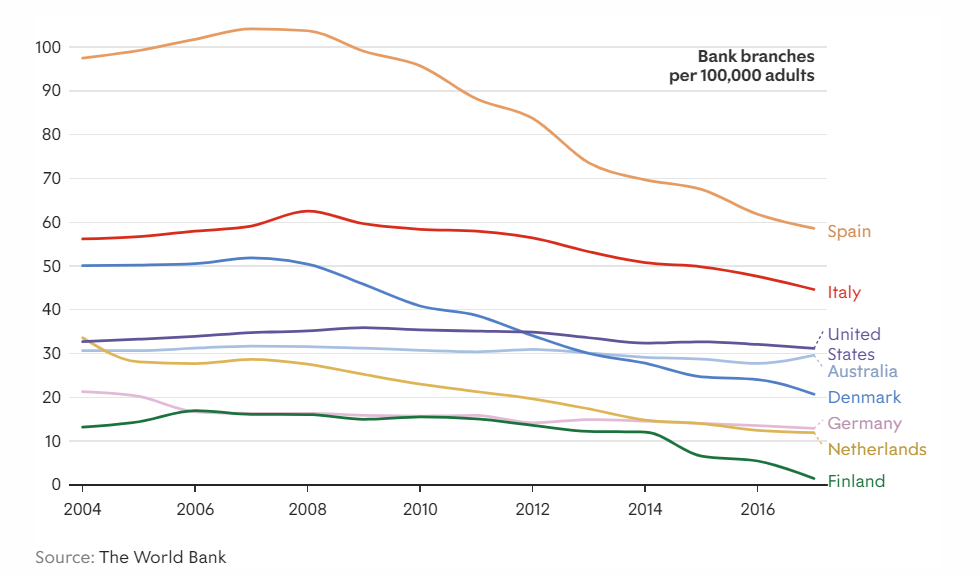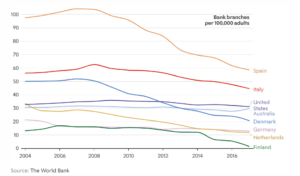 Are these closures really significant, and who would get hit the hardest if physical banking were to become extinct? 
Branch closures worldwide
If major banks like Citigroup Inc. and Bank of America Corp. were greatly affected during the 2008 crisis and closed/sold more than 1,500 branches since 2009, regional banks have only seen an impact on their physical footprint more recently with the rise of internet banking and fewer people visiting branches. Examples of regional banks include Capital One Financial Corp. slashing 32% of its branches between mid-2012 and mid-2017, SunTrust Banks Inc. 22% and Regions Financial Corp. 12%. On the other hand, major banks reported similar numbers such as Citigroup closing 32% and BOA 17% during the same period even though they've had a head start over regional banks for several years.
During the pandemic, Banco Sabadell was the first to act in Spain, announcing the loss of 1,800 jobs on the same day that its merger discussions with BBVA failed in November 2020. Later, Santander announced the loss of 3,572 employees and the closure of 1,033 branches in Spain by December 2020. Also, BBVA reportedly planned 3,798 layoffs and the closure of 530 locations. A one-day strike by employees in June caused them to amend their decision to only 2,935 layoffs and 480 branch closures. In April, CaixaBank planned 8,291 job layoffs and 1,534 branch closures; however, after discussions with unions, the bank agreed to 6,452 job layoffs and the closure of 1,500 branches.
Commerzbank, Germany's second-biggest bank by assets, will exit Hong Kong, Luxembourg, and Hungary, as well as close branches in Bratislava, Slovakia, Barcelona, and Brussels. According to Bloomberg, the number of global correspondent banks would be reduced from 1,600 to around 1,300 with more than 80% of headcount reductions set to be completed by the end of 2023. Deutsche Bank will close 150 branches this year, with a further 50 Postbank branches going in 2022, costing more than 1,200 jobs. Deutsche Bank's branch closures are part of a plan announced in 2019 to cut 18,000 positions, or one-fifth of the company's worldwide staff, and spend €13 billion on new technologies over the following four years.
Reasons behind branch closures
.
Banks are shutting branches to save costs
Opening a new branch costs a bank millions of dollars, on average $2-4 million. Then they pay $200,000-400,000 each year to run it, especially in high-cost cities. Therefore, it might take years for a branch to achieve its potential profit. In the UK for example, each client visiting a branch on a regular basis may cost banks up to £118,000 per year in some branches. Also, according to a report published by Bain & Co. in 2016, a mobile banking transaction costs around 10 cents, whereas connecting with a bank teller costs about $4. Bain also stated that the 25 largest U.S. banks could save more than $11 billion a year if they decreased their branch count per capita. Commerzbank is planning on saving €1.4 billion by 2024 with the closure of 340 branches and the elimination of about 10,000 jobs, according to their "Strategy 2024".
.
Customers' increasing reliance on online banking
As reported by the American Bankers Association (ABA), 71% of Americans prefer online or mobile banking business to brick and mortar. Also, 39% of customers now report using mobile apps as the primary source for banking, a 3% increase from pre-COVID levels. BBVA reported a 48% drop in in-person transactions and a 115% increase in the use of its digital channels in the first half of 2021. Also, according to YouGov, most bank customers (up to 84%) use internet banking monthly in the UK, while only 25% still visit branches once a month. 

Disadvantages of branch closures
However, banks should also consider that they will alienate some customers when they shut down physical locations, especially since many customers face difficulties using technologies like mobile and online banking. 
.
Disabled and elderly customers suffering
Statistics show that physical bank branches are mostly visited by older, retired people. Almost a third (32%) are over the age of 65, and 33% are retired. Their seeming inability to use digital banking is not due to a lack of access as nearly all (93%) own a smartphone, and 75% own a laptop. It appears to be due to either a lack of understanding or a lack of faith in the technology. Additionally, a survey conducted by consumer group "Which?" stated that 41% of disabled consumers said the closures had a negative impact on their ability to access bank services, with more than half (54%) of NatWest customers and nearly 58% of Barclays customers agreeing. Additionally, one in five also struggled with the security measures needed which is a serious issue for those with memory problems, as 30% of them indicated security measures were a difficulty for them. According to the same study, even branches that remain open lack complete accessibility for customers with disabilities, specifically, 34% mentioned they found it difficult to use branch services in the UK. 
.
Cost of closures
Branch closures are likely to lose customers for banks, not only employees. According to the Bain & Co. report, the likelihood of a U.S. consumer switching banks rises 14% when that consumer is affected by a branch closure. When a branch closes, the nearest alternative branches are typically much farther away. Hence, customers who can't or don't want to drive must rely on local transport services in rural areas. Also, when banks decide on the closure of a branch they also decide for the reduction of the workforce, which isn't as cheap as it sounds. Studies show that Commerzbank's 10,000 job cuts which are caused by branch closures will cost the bank around 160,000 euros each in severance.
In conclusion, branch closures might be a very suitable solution for banks to reduce costs and impress shareholders. However, they should keep in mind that some customers (even if just a minority) still rely on physical branches and will end up with no access to banking services if banks did not put their vulnerable state into consideration.
Mariam Elmaghraby – Research Analyst
Sources:
https://www.self.inc/info/the-death-of-the-banks/#historical-banking-trends
https://www.thebanker.com/Editor-s-Blog/Is-this-the-beginning-of-the-end-for-bank-branches
https://danskebank.com/news-and-insights/news-archive/company-announcements/2019/ca19022019
https://www.irishnews.com/business/2021/07/10/news/danske-bank-set-to-close-50th-branch-since-2010-this-year-2382147/
https://www.spglobal.com/marketintelligence/en/news-insights/latest-news-headlines/spanish-banks-look-to-leaner-future-as-cost-cutting-plans-survive-union-pushback-66008050
https://www.macaubusiness.com/spanish-bank-sabadell-to-cut-1800-jobs-union/?__cf_chl_managed_tk__=pmd_GW9QU41YJKTOMT9fAedi9eb6duXtDmztKulhCy8AQH8-1633335135-0-gqNtZGzNAyWjcnBszRS9
https://inews.co.uk/inews-lifestyle/money/saving-and-banking/banks-failing-disabled-customers-amid-branch-closures-1121783
https://citymonitor.ai/economy/bank-branches-are-closing-and-theyre-leaving-the-most-disadvantaged-areas-behind
https://www.thetimes.co.uk/article/why-banks-are-closing-their-high-street-branches-zzkh2hdc0
https://yougov.co.uk/topics/finance/articles-reports/2019/02/04/how-much-will-closure-bank-branches-affect-custome
https://www.spglobal.com/marketintelligence/en/news-insights/latest-news-headlines/commerzbank-to-trim-global-ops-shutter-branches-8211-bloomberg-62916382
https://thefinancialbrand.com/71090/branch-networks-retail-experience-mobile-first-banking/
https://www.finextra.com/newsarticle/37958/deutsche-bank-to-close-branches-move-to-hybrid-working-model
https://www.bankingdive.com/news/challenger-branches-extinct-by-2034/596885/
https://www.wsj.com/articles/banks-double-down-on-branch-cutbacks-1517826601
https://www.which.co.uk/money/banking/switching-your-bank/bank-branch-closures-is-your-local-bank-closing-a28n44c8z0h5
https://arca.com/resources/blog/cutting-branches-to-cut-costs-does-it-work
https://www.newsobserver.com/news/business/article119764788.html
https://thefinancialbrand.com/107582/garret-online-mobile-banking-adoption-rates-covid/
https://www.yourmoney.com/saving-banking/disabled-customers-suffer-as-bank-branches-close/
https://www.bloombergquint.com/onweb/deutsche-bank-targets-450-jobs-in-first-round-of-branch-closures
https://ncrc.org/research-brief-bank-branch-closure-update-2017-2020/