Looming Inflation Expected to Persist throughout 2022
In recent times, inflation has been a topic of discussion for economists, politicians, and citizens alike. The pandemic has brought an end to a period that was marked with low-to-moderate inflation rates with even deflation plaguing countries such Thailand, Qatar, and Malaysia before the COVID outbreak. There has been a noticeable spike in the number of advanced economies with an inflation rate of above 5%. The number of emerging markets seeing higher inflation has also increased with 78 out of 109 Emerging market & Developing countries having an inflation rate of 5% or more. This leap is the first of its kind in a 20-year period.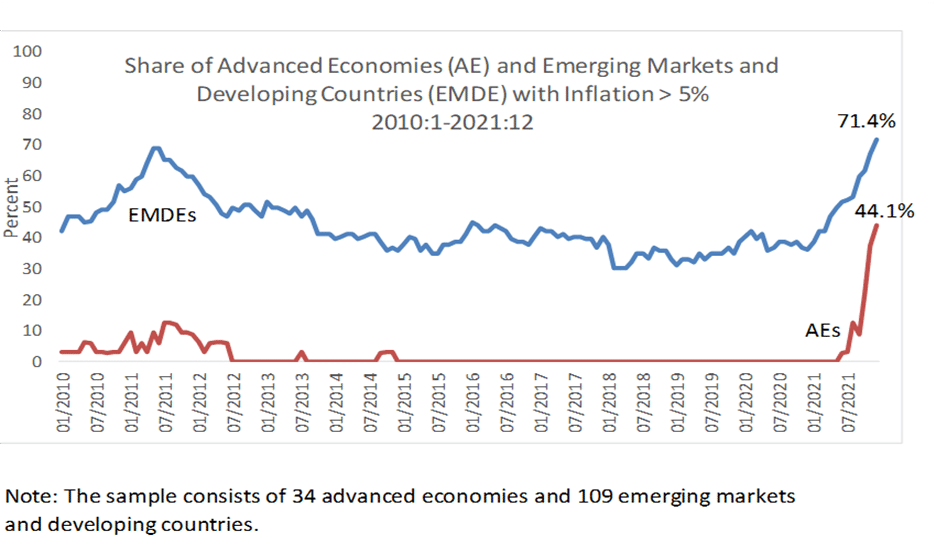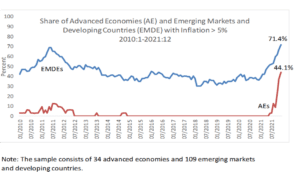 Pandemic-related factors brought the annual inflation rate in the US to 7% in the last month of 2021, a fresh high since June of 1982. The U.K. and Canada had a whopping 30-year high inflation rate reaching 5.4% and 4.8% respectively.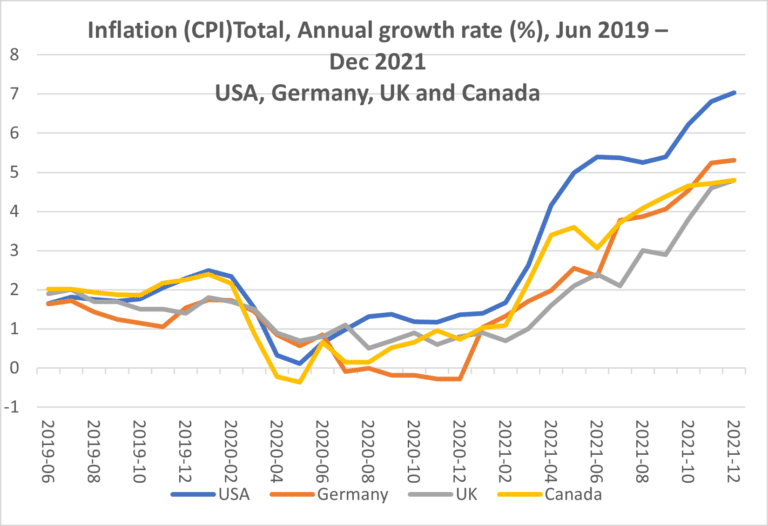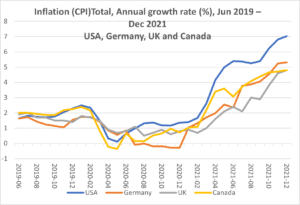 One of the major problems with inflation is that the lower social classes are the ones hit the hardest. According to the IMF, inflation has particularly negative consequences for households in low-income countries, where about 40% of consumer spending is on food. The reason inflation does not affect higher-income individuals and households is because they can afford to spend more money on basic goods contrary to their lower-income counterparts.
A study conducted by Ipsos of 20,000 people from 30 different countries found that over 50% of participants reported an increase in the prices of clothing and shoes, housing, healthcare, and entertainment. Over 40% expect these costs to keep rising for several months to come.
The UN noted that the FAO, Food Price Index, a measure of the monthly change in international prices of a basket of food commodities, reached a 10-year high in 2021, despite a small December decline.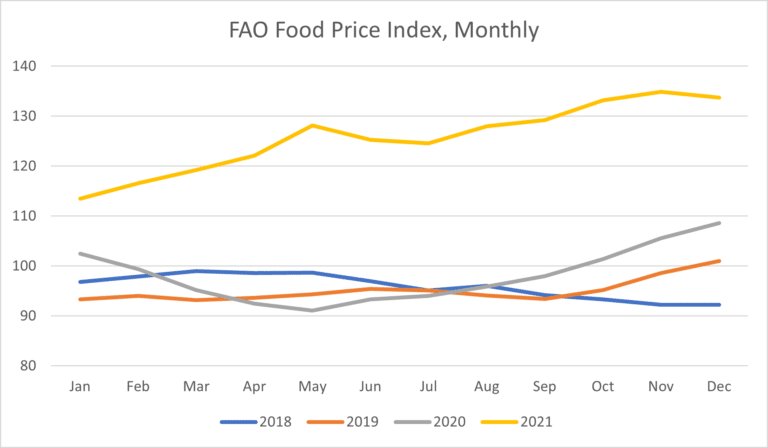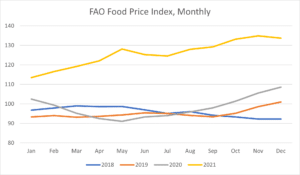 Reasons for the increase      
Many reasons contributed to prices rising at a substantial rate. Most of these reasons relate to the COVID-19 pandemic including supply constraints, economies reopening, fiscal stimulation, increased liquidity, higher energy prices, lower inflation in past years, higher unemployment, conflict between countries, and labor shortage.
Supply constraints
The fast spread of the virus in 2020 caused the shutdown of many industries around the world and with that, consumer demand also dampened, which in turn reduced industrial activity. After vaccines became widely available and many countries deemed their vaccination campaigns successful, economies reopened and suddenly, supply chains were faced with tremendous pressure. The supply of goods, once systematic and free-flowing pre-pandemic, was forced to a halt post-pandemic which damaged all the systems that were in place originally. Supply chain systems are not easy to implement as it requires coordination between a multitude of different parties. The surge in demand necessitated these systems to switch on and be fully functional in a short period, which is not feasible.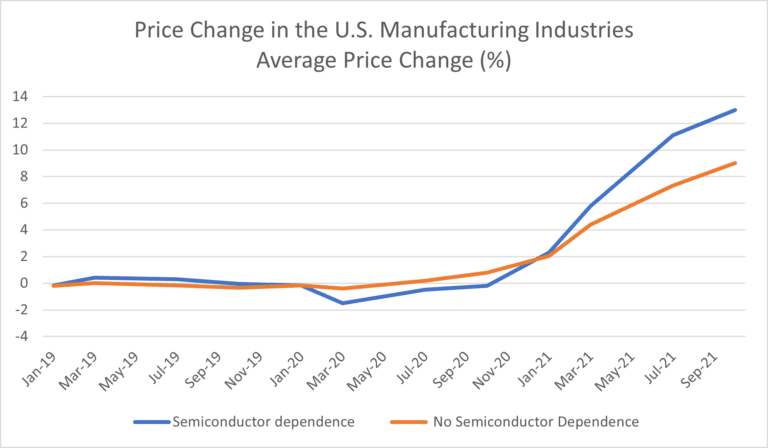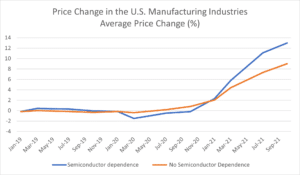 A major culprit in price increases coming from the supply constraints is the semiconductor industry. Chips are increasingly present in most of the products we use, ranging from cars to remote controls to smart lights and a variety of different items that are used today.
High Energy Prices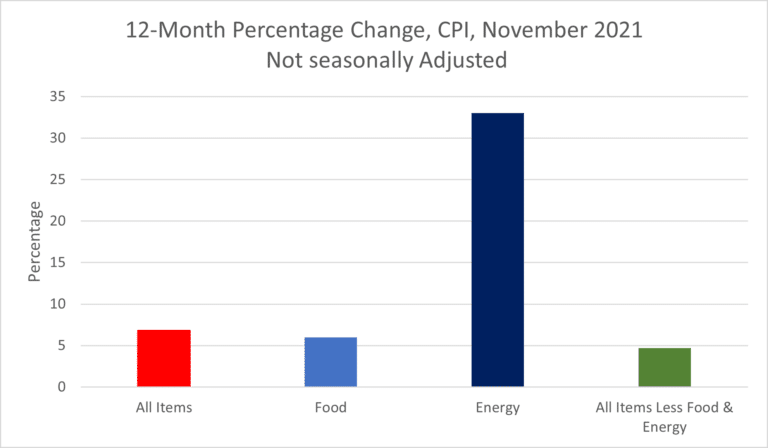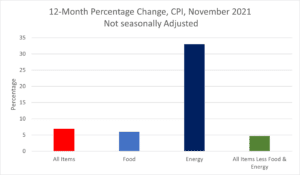 Oil prices have reached their highest level since 2008. Brent Crude, which represents the global oil benchmark, has increased to $130 per barrel. The spike has been driven primarily by fears of supply-side disruptions. The attack by Yemen's Houthis on fuel trucks in Abu Dhabi, in which three people were killed played a part but the main reason has to do with the tensions between Russia, the world's second-largest oil producer, and Ukraine. Energy prices in households are rising dramatically and their effects are directly being felt by consumers.
Further, the key oil-producing countries have kept supply on a gradually increasing schedule despite the sharp increase in global crude prices. The OPEC countries decided to increase overall daily production by only 400,000 barrels in February, even though its own prediction is for demand to rise by 4.15 million barrels per day in 2022.
2022 Outlook
According to the World Bank, Global inflation is expected to remain elevated throughout 2022. Supply bottlenecks and labor shortages are assumed to gradually dissipate through 2022, while inflation and commodity prices are assumed to gradually decline in the second half of the year.
In the U.S. the central bank is under pressure to raise interest and tighten the economy further to combat inflation. However, the country is at a crossroads where raising rates might trigger a fresh global debt crisis, as its emerged poor-country repayments to creditors are already running at their highest level in two decades. The IMF warned that a quantitative tightening from the U.S. Federal Reserve could have a ripple effect on emerging markets by leading to capital outflows and currency depreciation. Emerging markets that borrowed most from the U.S. dollars are going to be hit the hardest by an increase in Interest Rates leading to potential country defaults.
In the MENA region, the Economist Intelligence Unit has pointed out that the CPI is expected to remain high in 2021-2022 at an annual average of 14% due to the rise in international food and energy prices. Inflation will continue to be aggravated with Supply Chain bottlenecks and the post-pandemic increased demand in Middle Eastern countries.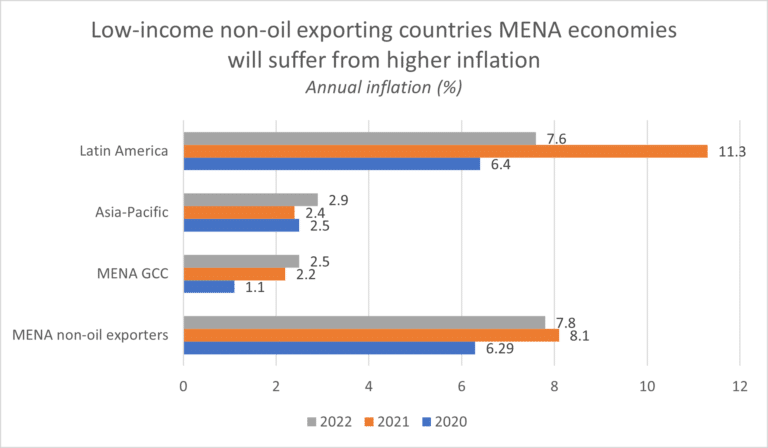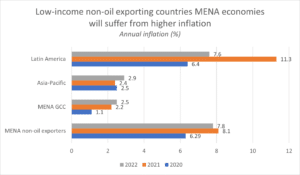 There are also expectations that inflation will greatly impact low-income non-oil exporting countries within the MENA region such as North African countries. The effects of higher inflation will be less impactful in wealthier GCC and Asia-Pacific Economies. Regarding food, shortages might arise in low-income non-oil exporting countries due to dry spells and lower crop yields. Sharply depreciating currencies in countries such as Lebanon will further aggravate inflation in 2021/22, driving up the cost of imported goods.
In a more distant future, inflation is expected to slow down toward the end of 2022 and the beginning of 2023, as Supply chain disruptions start to dissipate and the labor markets around the world are back to their healthy state.
Conclusion
Inflation seems to be quite a persistent rather than a transitory threat. The escalation of the conflict between Russia and Ukraine will most definitely not help ease inflation but rather further aggravate the matter since Russia is one of the biggest producers of raw materials such as oil, wheat, and a variety of different metals. Gasoline prices will further increase with the cost for food and goods such as smartphones most likely to follow suit. However, with supply chains recovering to their original efficiency, inflation will eventually slow down to settle at a fair rate.
Author: Othmane Zidane
Sources
https://www.project-syndicate.org/commentary/return-of-global-inflation-by-carmen-reinhart-and-clemens-graf-von-luckner-2022-02?a_la=english&a_d=62067728a72fe630c0cb5cc7&a_m=&a_a=click&a_s=&a_p=homepage&a_li=return-of-global-inflation-by-carmen-reinhart-and-clemens-graf-von-luckner-2022-02&a_pa=curated&a_ps=&a_ms=&a_r=
https://data.oecd.org/price/inflation-cpi.htm
https://www.weforum.org/agenda/2021/12/rising-prices-inflation-ipsos-survey/
https://www.eiu.com/n/threat-from-inflation-in-the-mena/
https://www.theguardian.com/business/2022/jan/23/fears-grow-that-us-action-on-inflation-will-trigger-debt-crisis
https://globalnews.ca/news/8523037/inflation-canada-jan-2022-record/
https://www.naturalgasintel.com/oil-natural-gas-prices-drive-sustained-surge-in-inflation/
https://research.stlouisfed.org/publications/economic-synopses/2021/12/16/supply-chain-bottlenecks-and-inflation-the-role-of-semiconductors#:~:text=Along%20with%20unprecedented%20labor%20market,to%20shortages%20of%20key%20inputs.
https://www.ecb.europa.eu/ecb/educational/explainers/tell-me-more/html/high_inflation.en.html
https://www.imf.org/external/pubs/ft/fandd/basics/30-inflation.htm
https://www.fao.org/worldfoodsituation/foodpricesindex/en/
https://blogs.worldbank.org/voices/global-economic-outlook-five-charts-1
https://www.morganstanley.com/ideas/global-macro-economy-outlook-2022#:~:text=The%20surge%20in%20global%20inflation,global%20GDP%20growth%20in%202022.