The impact of the Russian war in Ukraine on the financial sector
Economic shockwaves have been felt across all industries as penalties from the European Union, the US, and many other countries ramp up on the Russian Federation. Energy prices are rising, stock prices are falling, supply chains are collapsing, and inflation has reached record levels. These recent events have demonstrated that countries can be completely cut off from the global financial system or have their assets become worthless overnight. However, how strong will the Russian war affect the financial sector, and most importantly, how long will this effect last?
In order to assess the consequences of the war in Ukraine, it's vital to list the main restrictions imposed on Russia recently:
Restrictions on the Russian financial sector
According to statistics from S&P Global Market Intelligence, the vast majority of Russia's commercial banking industry has been subject to international sanctions as a result of the country's invasion of Ukraine. Foreign governments have imposed a set of restrictions against Russian banks, including capital market bans, asset freezes, and withdrawal from the Swift messaging system that facilitates financial transactions globally. The value of assets held by Russian commercial banks that are subject to the new sanctions exceeds 91 trillion rubles, or approximately over 80% of the 114.55 trillion rubles in total assets held by the country's banking industry as of September 30, 2021. The majority of the lenders that have been impacted are Russia's systemically large financial institutions.
Several banks have been removed from Swift: PJSC Bank Otkritie Financial Corp., Joint-Stock Commercial Bank NOVIKOMBANK, PJSC Promsvyazbank, Bank Rossiya, PJSC Sovcombank, State Development Corp. VEB.RF, and VTB Bank PJSC.
Sberbank of Russia and Gazprombank JSC, two of the country's biggest lenders, were exempted from the Swift cut-off so that energy payments to Russia could continue. The US, on the other hand, placed correspondent and payable-through account sanctions on Sberbank and its subsidiaries, effectively cutting them off from the US financial system and limiting their access to dollar transactions. Similar restrictions were also imposed in the United Kingdom.
Most of the banks that were withdrawn from Swift had their assets frozen by the EU and the UK, while the US imposed full blocking sanctions on them, shutting them off from the US financial system, freezing their assets, and forbidding US individuals and businesses from doing business with them. Individual sanctions have also been imposed on a number of bank executives and major shareholders. Some of the banks were already operating under restrictions imposed after Russia's 2014 annexation of Crimea. The US, EU, UK, and Canada also decided to freeze foreign assets of the Central Bank of Russia, reducing its ability to mitigate the impact of the sanctions and support the country's banks with their foreign exchange needs. As a result of the sanctions, Russia lost access to over half of its $640 billion in reserves, according to Reuters, citing Russian Finance Minister Anton Siluanov.
It is important to note that the Russian subsidiaries of international lenders such as France's Société Générale Société anonyme, Italy's UniCredit SpA, Austria's Raiffeisen Bank International AG, and Hungary's OTP Bank Nyrt are not subject to these sanctions. Many international banks, however, have warned that the conflict may cause them to lose their investments in Russia, especially after the USA decided to prohibit all investments in the Russian Federation by U.S. citizens.
OFAC Blocking of Sberbank and Alfa-Bank
The U.S. Department of the Treasury's Office of Foreign Assets Control ("OFAC") imposed blocking sanctions on two major Russian banks – Sberbank and Alfa-Bank – and added them and 48 of their subsidiaries to OFAC's Specially Designated Nationals and Blocked Persons List ("SDN List"). Prior to this, both entities had been subjected to considerable but less severe restrictions. By implementing the blocking sanction, OFAC has effectively banned all transactions involving these two banks by U.S. individuals or in (or through) the United States. Furthermore, all entities directly or indirectly owned (50% or more) by one or more of these institutions, whether individually or collectively, and any other blocked Russian individual or organization, whether or not named on the SDN List, are subject to the same penalties.
Impact of the war and restrictions
With the United States, the UK, Europe, and Canada suspending some Russian banks from SWIFT on February 26th – essentially attempting to deny Russia access to the financial markets – many have speculated on the impact this will have on the payments ecosystem. Concerns have been raised about how payments for Russian energy imports would be handled, whether international creditors would be reimbursed, and how much nesting would be encouraged.
In reaction to its withdrawal, the Russian Central Bank has claimed its SWIFT alternative – the Financial Message Transfer System (FMTS), established in the wake of the 2014 invasion of Crimea – is primed. FMTS delivered two million messages in 2020, according to Reuters, which accounts for almost a fifth of Russia's internal traffic. Institutional participation in the system, on the other hand, is nowhere near what it has to be to keep Russia afloat in the international money transfer sector. Currently, the majority of members are Russian and Belarusian banks. Regardless of FMTS' short-term success, the bottom line here is that the west's use of the SWIFT "financial nuclear weapon" – as French Finance Minister Bruno Le Maire called it – will, at the very least, be fragmenting the global payments landscape.
The Russian ruble has suffered a severe depreciation as a result of geopolitical tensions and the international response to the situation in Ukraine. The central bank boosted the benchmark interest rate to 20% from 9.5% in an effort to support the currency and urged exporters to convert 80% of their revenue into rubles. Bans on foreign-currency loans and transfers to non-residents have also been implemented by the government, among other restrictions.
US dollar to Russian ruble exchange rate:
Number of rubles against the dollar from Feb 1, 2022, to March 16, 2022.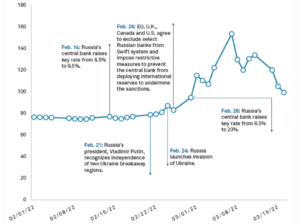 However, it should be noted that not all areas of the financial services industry are at a disadvantage during this crisis. "Cryptocurrency and related services will benefit," said Michael Clouser, co-founder of The Startup Race. "People are losing trust in central currencies due to political instability, and actors are seeking to circumvent sanctions and SWIFT shutdowns." Rising oil prices might lead to even more inflation, according to Clouser, and central bank-controlled currencies will lose value as people lose confidence in them. "Alternative currencies – those besides Bitcoin – will rise in price, such as Monero and other cryptos with privacy by design." Additionally, cryptocurrency is also operating as a safe haven for many ordinary Russian residents who are trying to keep their savings secure from a banking system that has several restrictions and vulnerabilities as the ruble's value falls.
With over US$100 billion of Russian debt held by foreign banks, concerns have been raised about the risks to banks outside Russia and the potential for a default to trigger a liquidity crisis similar to the one that occurred in 2008. European banks, particularly those in Austria, France, and Italy, are the most vulnerable to Russia's latest sanctions. According to data from the Bank for International Settlements (BIS), French and Italian banks each have roughly US$25 billion in outstanding claims on Russian debt, while Austrian banks have US$17.5 billion.
Banks will certainly be impacted in other ways as well. Switzerland, Cyprus, and the UK, for example, are the most popular locations for Russian billionaires looking to deposit their money abroad. Cyprus also attracts Russian wealth with golden passports and visas. Because of the sanctions, all of these nations' financial institutions are expected to lose business. For example, the stock values of UK banks, Lloyds and NatWest, have both fallen by more than 10% since the invasion started.
To sum up, the war's effects might be vast, and many more will almost certainly emerge in the coming weeks and months. The financial sector has responded to the Russia-Ukraine war in a way that has never been seen before. With the increasing speed with which banks and financial corporations announce their own embargoes against Russia, the country is becoming increasingly isolated from the rest of the world. Internationally, the markets have been highly unstable as the global economy continues to recover from the pandemic while also dealing with high inflation. Yet, the invasion of Ukraine has exacerbated the situation, and financial markets will be on high alert to observe how things unfold.
Author: Mariam ElMaghraby
Sources:
https://www.finextra.com/the-long-read/358/how-is-the-russia-ukraine-war-impacting-the-financial-and-tech-sectors
https://www.spglobal.com/marketintelligence/en/news-insights/latest-news-headlines/more-than-80-of-russia-s-banking-sector-subject-to-sanctions-over-ukraine-war-69434351
https://www.natlawreview.com/article/biden-administration-rolls-out-new-tranche-sanctions-russia-blocking-major-russian
https://www.business-standard.com/article/international/could-the-russian-invasion-of-ukraine-spark-a-global-financial-crisis-122030600191_1.html
https://www.worldbank.org/en/news/press-release/2022/04/10/russian-invasion-to-shrink-ukraine-economy-by-45-percent-this-year
https://theconversation.com/how-the-russia-ukraine-conflict-has-put-cryptocurrencies-in-the-spotlight-180527