The unique e-concession strategies luxury brands implement to reach the Chinese-shoppers
Being a key growth engine of the luxury sector worldwide, China remains one of the main luxury markets globally with consumers accounting for 33% of the global luxury goods spending in 2018 with predictions to reach 46% by 2025 (more than Americans, Europeans, SE Asians and the Japanese combined). Additionally, experts estimate that half of the purchases will be made domestically, driven by a series of moves introduced by the Chinese government including lowering import duties and taxes on luxury goods. 
Despite the domination of the store-based retail channel in the luxury goods market in China, e-commerce is continuing to disrupt the luxury retail sector through digital platforms, integral mobile apps (Wechat), facial recognition and AI. The penetration rate of e-commerce for luxury products is growing at a fast pace and estimated to reach 13% by 2021 from 5% in 2016.
Considering this, luxury players have been questioning on what is the best channel to invest in: Brick & Mortar stores? e-commerce? or perhaps investing in both for a perfect omnichannel customer journey. 
In the online retail context, Fashion luxury brands have been trying different operating models: brand owned channels, Mainstream B2C channels and Luxury verticals. The chart below² shows how major luxury players are active in brand owned channels, while the participation in marketplaces and e-commerce websites remains low in China: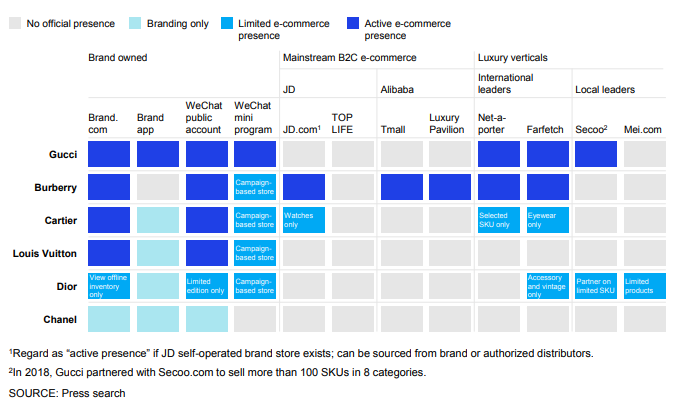 Globally and in China, luxury brands moved from a wholesale model to an e-concession model to increase the online penetration. In this model, brands control pricing, assortment and the supply chain whereas marketplaces offer platform infrastructure, tools (product management, secure payment system, etc.) and the customer database. In addition, this model allows a better strategy integration rather than making brands inventory available via the site.
In China, major luxury brands partnered with the biggest e-tailers and e-marketplaces (JD.com and T-Mall) on online flagship stores and mobile apps to expand their online footprint:
– The Italian fashion house Prada Group has formed a partnership with JD.com for an authorized flagship store on its platform. The deal that was set in June 2019 featuring Prada's fall/winter collection. 
– Back in 2015, Tag Heuer, a Swiss Luxury watch brand has also announced an exclusive e-commerce partnership to include the establishment of TAG Heuer's first China online flagship store on JD.com's marketplace platform.
– Tapestry, the house of modern luxury accessories and lifestyle brands: Coach New York, Kate Spade New York and Stuart Weitzman announced a strategic partnership with T-mall (Alibaba Group) in adopting the Flagship Store 2.0 which provides the brands with powerful tools to feature customized content, and offer a rich shopping experiences for customers.
– Aside from Tapestry, more than 150 brands with products ranging from apparel and beauty items to watches and luxury cars (Alexander McQueen, Chanel, Bottega Veneta, Cartier, Burberry, etc.) are listed in the T-mall Luxury pavilion that was launched in 2017.
– Not only brands, but European Luxury e-tailers such as Net A Porter are also capturing the rising wave of the flagship store integration by Chinese marketplaces: Yoox Net-A-Porter signed with Alibaba a joint venture (JV) deal in 2018 to bring its platform to Chinese consumers. Under the deal, Net-A-Porter and Mr Porter launched mobile apps, as well as flagship stores on Tmall Luxury Pavilion.
In Europe, Burberry and Gucci approached luxury retailers Farfetch and MatchesFashion for unique e-commerce collaborations:
– British luxury label Burberry was the first brand Farfetch partnered with on this basis: For the first time, technology developed by Burberry has been integrated to the Farfetch API – the platform's operating system – allowing the brand's entire global inventory to be available through an ecommerce platform. Burberry has since said it's extremely happy with the results.
– Gucci which seeks to boost sales and margins, is also looking to turn more of its collaborations with 3P and multi-brand retailers such as Matchesfashion.com into online concessions, where it controls everything from the product collection and selection to their presentation.
Since Chinese consumers are eager for superior and premium experiences as well as innovative solutions, brands and retailers could think of personalized services that add a value to the e-shoppers experience such as Virtual try-on services, matching suggestions performed by AI, 24-hour white-glove dispatch, and distinctive shopping bags.
Saad Ibenbrahim – Senior Associate at Infomineo
Sources:
The Future of Luxury: A Look into Tomorrow to Understand Today – Bain & Company – January 2019
China Luxury Report 2019 – Mckinsey & Company
Vogue Business – November 2018
JD.com Press Release – September 2015
Farfetch Press release – February 2018
China's next retail disruption: End to end value chain digitization – PWC – 2018