Covid-19 Impact on the Real estate Market – UAE
The real estate market in the United Arab Emirates features some unique attributes compared to its equivalents in the other countries of the region. This is mainly because UAE is a temporary home for a vast number of expats compared to the nationals which in turn affects their preferences and consideration when it comes to choosing a residential place. For example, while it is a common practice for residents of the region to think of buying an apartment as an investment hedge against inflation or as an asset for the future generation, this is not very common in the UAE since expats believe that sooner or later they will leave the country and go back to their home country and also other main factor that the residential supply is not all accessible to buy by foreigners, the property ownership for expats is available in two categories leasehold and freehold in certain regions. These factors affect the demand in the country in general.
Even before the pandemic, the oversupply in Dubai & Abu Dhabi has posed a threat to the prices in the real estate sector whether in the residential sector or the office sector. According to a report by Deloitte, average sales prices for residential property in Dubai declined by approximately 7% between Q3 2018 and Q3 2019. Average rents also declined by approximately 9% over the same period, as the average price per square feet for apartments fell from AED 1,178 in 2018 to AED 1,090 as of September 2019.
Meanwhile, in Abu Dhabi, there was an average slump of 8.7% over a 12-month period with villa rents falling by 8.4%.
Has the sector been affected so far?
The oversupply problem in UAE and especially Dubai worsened with the spread of COVID-19. In February 2020, Knight Franck stated that a total of 62,500 residential units are scheduled to be completed this year, which would be the biggest number of new units since 2008. In addition, Moody's assumed that it is expected the pandemic to further slow home sales and lower rental prices in a market that was still suffering from persistent imbalances.
According to real estate and investment management firm JLL, the UAE's property market continues to be tenant-friendly in Q3 2020. The residential sector recorded an increase in construction activity with around 12,000 units handed over in Dubai and 600 units handed over in Abu Dhabi, JLL expects developers to continue offering a range of incentives and subsidies such as fee waivers, discounts, rent-to-own, as well as partnerships with banks to attract new investors and end-users looking to take advantage of the lower prices.
In the UAE, homeowners have become more optimistic on the outlook for residential real estate in the coming 12 months as per the Peninsula sentiment survey. At the end of Q3 2020, 50% of homeowners responding to the survey reported that they expect home prices to be stable or increase in the next 12 months. Sensibly up from the 41% recorded only one trimester before. In particular, 33% of UAE homeowners expressed their belief that home prices will increase in the next 12 months, up from only 11% of respondents in Q2.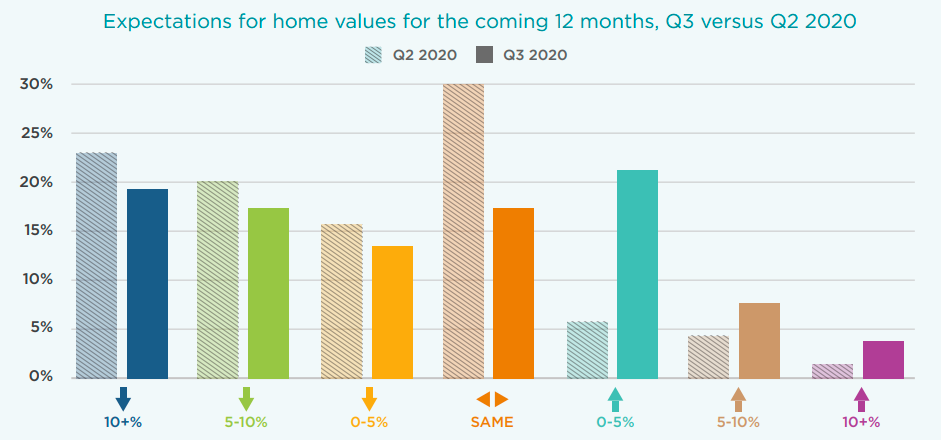 Trend after the Pandemic:
In the unpredictable times of Covid-19, both optimistic and pessimistic outlooks were shared on how pandemic will shape the real estate industry in the UAE. However, both types of projections asserted that modernity and inclusivity will be part of the new trend in the sector. Especially with the crisis due to the excess of offer, taking into account the below insights could help the developers to stand out from the competition:
A. Renters/buyers will prioritize mixed-use developments when thinking of renting/buying an apartment
Residents are now more prone to choose an apartment in a place where there is a mix of commercial and educational facilities to avoid going to crowded places.
B. Renters/buyers will refurbish their tastes when it comes to renting/buying an apartment
The pandemic has forced many people to work from their homes, which then need changed from the pre-Covid setup. For example, more and more people would now choose homes that are soundproof or that have a space for exercising.
C. Residents will opt for lower density properties
Covid-19 brought out the risk that high-density property could have on residents. Hence, it is believed that developers will start considering designs that maintain new distancing standards.
D. On a medium- long term, the preference of a well-aired office space will be on the rise
According to CBRE, buildings are currently required to comply with a minimum of 20% fresh air intake, while some choose to exceed this requirement by going up to 30%. However, this is bound to change as businesses will prioritize office spaces with good indoor air quality and ventilation.
Loay Sherine – Senior Analyst
Sources:
https://www.constructionweekonline.com/business/265702-lootah-ceo-shares-top-5-trends-to-transform-uae-real-estate-market
http://cbre.vo.llnwd.net/grgservices/secure/How%20COVID%20is%20changing%20office%20design.pdf?e=1595837891&h=0608113c7dee3f8d62c0c6cddc611d30
https://www.bayut.com/mybayut/property-ownership-rules-foreigners/
https://www.peninsula-reh.com/wp-content/uploads/2020/11/HomeSentimentSurvey-Q3-2020-FullReport.pdf
https://www2.deloitte.com/content/dam/Deloitte/xe/Documents/realestate/me_real-estate-predictions_dubai-2020.pdf
https://news.residentialpeople.com/knight-frank-residential-oversupply-in-uae-causes-market-stagnation-1485/
https://english.alarabiya.net/en/business/markets/2020/02/11/Dubai-s-oversupplied-property-sector-to-add-more-new-homes-in-2020
https://www.nasdaq.com/articles/coronavirus-to-exacerbate-dubai-chronic-property-oversupply-moodys-2020-07-20