The Metaverse: How to access the virtual world
The COVID-19 pandemic accelerated technological advancements to a new level. On one hand, it embraced the work-from-home model, allowing employees to join meetings on online platforms; on the other hand, tech and gaming companies started innovating to provide entertainment experiences as the world was on restricted travel and lockdown. Gaming companies are looking to provide their customers with extended-reality gaming, immersive, and 3D experiences.
These experiences are starting to merge with the professional world as companies are looking for new ways to make online meetings more interactive, and the "Metaverse" is a solution that can bridge online meetings with the immersive gaming experience. So, what exactly is the metaverse? And how can companies or businesses join the metaverse? This article discusses the three ways that businesses can gain access to the metaverse: by purchasing land on existing metaverses or by creating their own metaverse, either in collaboration with a developer or using a company's own internal IT team. For each access method, the costs are highlighted along with the requirements and steps to access the metaverse. Last but not least, examples of consulting companies joining the metaverse are provided.
The metaverse can be seen as a simulation of the real world in a digital environment, where users can create their own avatars and perform activities (work, shop, interact, etc.) similar to those they would do in real life. The metaverse is destined to be an extension of the real world, not a replica of it. The term is composed of two main words: the prefix "Meta" (Beyond) and verse (Universe); a virtual universe beyond the real one.
The metaverse builds on the Internet and requires technologies to enable it. Augmented Reality (AR), Virtual Reality (VR), haptic and brain-computer interfaces, intelligent sensors, cryptocurrency, blockchain, holograms, and digital twins are among the fundamental technologies necessary for the successful launch of the metaverse.
How can businesses/companies access the metaverse?
Businesses or companies can enter the metaverse via two major possibilities. The first one is to acquire a certain space on an already existing metaverse platform, and the second possibility is to partner with a tech company to create your own metaverse platform/software.
According to Everyrealm, formerly known as Republic Realm, there are 4 pioneer metaverses in which you can acquire land: Decentraland, The Sandbox, Cryptovoxels, and Somnium Space. Decentraland is a multiplayer role-playing game developed by two Argentine software engineers. The world centers around a plaza called Genesis City, and all of the parcels (called "Land" in the game) except for roads and plazas can be bought, sold, and developed by the users of the game using "MANA," Decentraland's own crypto token, which has a fully diluted market capitalization of about $7 billion.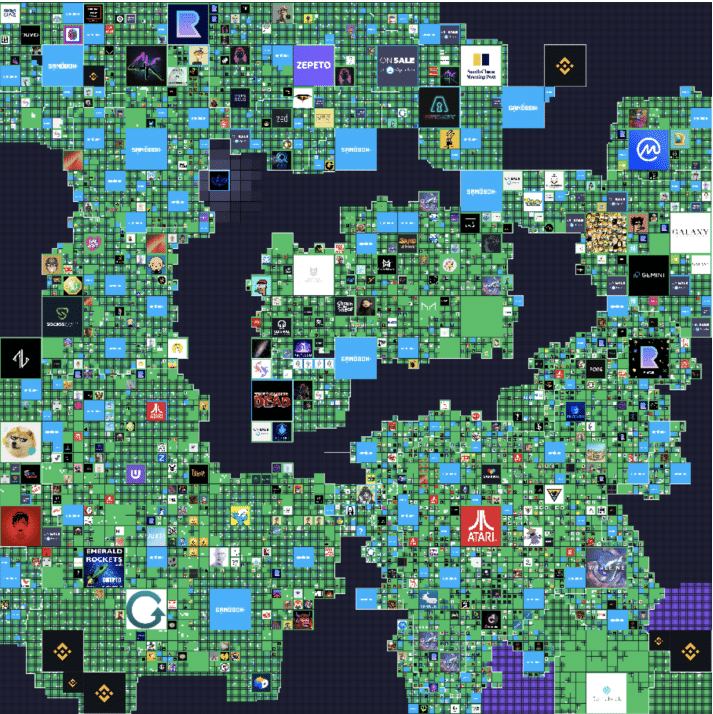 Cryptovoxels is a virtual world built on the Ethereum blockchain by Nolan Consulting, an independent game developer based in Wellington, New Zealand. The main area is a large square continent called "Origin City," and the latter is further subdivided into neighborhoods. Cryptovoxels allows players to display their own NFTs on their property, suitable for art galleries to establish their footprint on the metaverse.
The Somnium Space was founded by a Czech Republic-based team in 2017, and its land parcels are located along its river system and are of varying sizes, ranging from small to large. Somnium Cubes (CUBE) is the metaverse's currency and is based on the Ethereum blockchain (ERC20). Somnium Space managed to forge several partnerships in its metaverse. For instance, Republic Realm built Republic Realm Academy, providing educational initiatives with a virtual classroom, HQ, and gathering spaces.
Even though these metaverses might vary in terms of their structure or the currency used, according to Republic Realm, they share a number of defining characteristics:
Virtual landowners are free to determine what to develop on their digital property
Land can be bought and sold in primary and secondary sales on marketplaces like OpenSea and Rarible
Players can spend time in the metaverse however they desire
Each metaverse has a different number of total land parcels. The total value of all the land in a metaverse is roughly equal to the average price of a parcel multiplied by the total number of parcels (Republic Realm, 2022). Tables 1 and 2 show the total land area and its value. The prices are as of December 2021. Land prices were around USD 20 in December 2017 when Decentraland first held its land auction. In 2021, parcels were sold for an average of over USD 6,000. By the beginning of 2022, prices had increased to reach around USD 15,000 per land token (Influencer Marketing Hub, 2022).
Metaverse Parcels and Land Area

Metaverse Floor Price and Total Land Value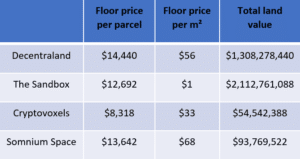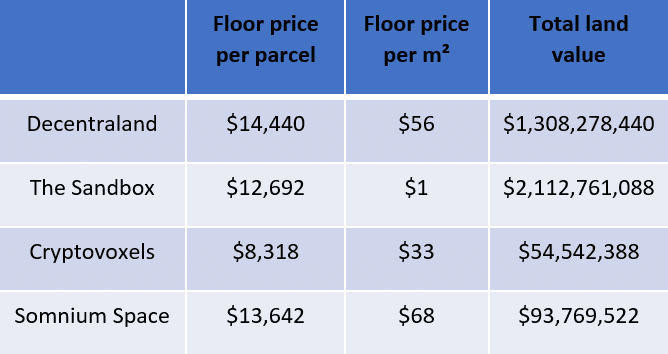 To buy land, for instance, in the Sandbox metaverse, here are the steps to follow:
Create an account on The Sandbox metaverse and connect a wallet to it. The purchased land will be stored in the secured wallet
Purchase SAND tokens on the Binance platform, or buy Ethereum tokens and convert them to SAND tokens.
Transfer the acquired SAND tokens to the Sandbox account
Buy land on the Sandbox map by locating available land parcels. Premium lands are highlighted in yellow on the map
Aside from these four pioneer metaverses and their available parcel lands, businesses can choose the second option: to build their own metaverse, either by partnering with tech companies specializing in metaverse development or by hiring the necessary staff. There are several metaverse development companies; some of the best include Maticz Technologies, LeewayHertz, Program-Ace, Antier Solutions, and Skywell Software.
The cost to develop a metaverse platform starts at a minimum of USD 10,000 (Vandhana, 2022). However, the cost can vary depending on a number of factors, including the client's requirements and demands, the time it takes to develop, the industry, and so on. This being said, a metaverse project's cost can scale up to USD 300,000 (Vartmann, 2021).
In case a company would like to hire its own staff to develop a full internal and decentralized metaverse, according to Leewayhertz, the estimated cost is around USD 15,000 to USD 20,000 per month for a metaverse project with approximately 5 virtual rooms and 20 users for the visiting rooms. However, the development of such a request would require:
A decentralized database
3-4 full-stack developers well-versed in React.js and Node.js
1 UI/UX developer
1 UNITY/UNREAL/CRYENGINE developer
3 3D modellers
1 decentralized wallet developer
1 decentralized DApp (Decentralized App) developer
Initiatives launched by companies in the metaverse
Besides the tech companies, such as Meta, Microsoft, Nvidia, etc., consulting companies are making their first moves toward the metaverse. KPMG, for instance, launched a metaverse collaboration hub in the US and Canada where employees, clients, and communities will connect, engage, and explore opportunities for growth across industries and sectors (KPMG, 2022). Prior to that, PwC Hong Kong acquired a land parcel in the Sandbox metaverse (Animoca Brands, 2021). However, the consulting firm did not reveal the location of the land it purchased or the parcel's cost. Furthermore, Accenture partnered with Microsoft to develop its metaverse, called the "Nth Floor." It has digital twins of real offices or research labs. Also, Accenture established a virtual campus inside its metaverse, "One Accenture Park", which the consulting firm uses for onboarding new hires (Microsoft, 2022).
The metaverse is gaining considerable interest and is continuing to grow. According to Fortune Business Insights, the global metaverse market was valued at USD 63.83 billion in 2021. This market size is expected to reach a forecasted value of USD 1.58 trillion by 2029, growing at a CAGR of 47.6%. Besides the increased investment coming from venture capital and private equity firms, mergers and acquisitions, and internal corporate investment, other factors such as the ongoing technological advances (5G, mixed reality, blockchain, etc.) and the increased stakeholder (gamer) readiness contribute heavily to the potential value creation in the metaverse, which is expected to generate up to USD 5 trillion by 2030 (McKinsey & Company, 2022).
Author: Mohamed Kamal Zaraba
Sources:
https://elearningindustry.com/will-the-metaverse-benefit-the-elearning-industry
https://www.techtarget.com/whatis/feature/The-metaverse-explained-Everything-you-need-to-know
https://www.forbes.com/sites/cathyhackl/2021/05/02/defining-the-metaverse-today/?sh=3eceff1c6448
https://mobidev.biz/blog/metaverse-technology-business-application-development
https://s4709.pcdn.co/wp-content/uploads/2022/01/Republic-Realm-2021-Metaverse-Real-Estate-Report.pdf
https://stealthoptional.com/crypto/what-is-sandbox-metaverse-why-sand-token-price-increasing/
https://ethereum.org/en/what-is-ethereum/
https://www.investopedia.com/news/what-erc20-and-what-does-it-mean-ethereum/
https://dev.stealthoptional.com/how-to/what-is-metaverse-land-how-to-buy/
https://medium.com/sandbox-game/introducing-the-sandbox-land-presale-4-premium-lands-and-assets-d4044b51325#1f92
https://apnews.com/article/technology-blockchain-virtual-worlds-d6e33662ef81df064161705523163f6f
https://maticz.com/metaverse-development-company
https://www.leewayhertz.com/metaverse-development-company/
https://program-ace.com/expertise/metaverse-development-services/
https://www.antiersolutions.com/metaverse-development/
https://skywell.software/metaverse-development/
https://www.linkedin.com/pulse/how-much-does-cost-build-metaverse-nithi-vandhana/?trk=pulse-article
https://insidetelecom.com/top-seven-companies-developing-the-metaverse-in-2022/
https://info.kpmg.us/news-perspectives/technology-innovation/kpmg-us-canada-metaverse-collaboration-hub.html
https://www.coindesk.com/markets/2021/12/23/consultants-are-entering-the-metaverse-literally/
https://www.animocabrands.com/the-sandbox-welcomes-pwc-hong-kong-to-the-metaverse
https://www.microsoft.com/en-us/worklab/podcast/the-future-of-onboarding-with-accentures-paul-daugherty#:~:text=Accenture's%20metaverse%20includes%20some%20spaces,new%20employees%20go%20for%20onboarding
https://influencermarketinghub.com/metaverse-virtual-real-estate/
https://www.fortunebusinessinsights.com/metaverse-market-106574
https://www.mckinsey.com/~/media/mckinsey/business%20functions/marketing%20and%20sales/our%20insights/value%20creation%20in%20the%20metaverse/Value-creation-in-the-metaverse.pdf