Streaming services: a new age
No one can disagree that Netflix is the king of streaming right now, a well-deserved place crowned by the many achievements it has accomplished since its inception, most notably bringing streaming media to the forefront. However, its path was not paved with gold. Throughout the two decades and a half of its life, it has known many challenges. In this article, we will delve into the streaming services scene, looking at it through Netflix's lens, examining how it evolved over time, how it changed the entertainment industry landscape, and finally, exploring some possible scenarios for the streaming world's future.
Birth of the Video-on-demand (VOD) streaming world
Contrary to popular belief, the first popular streaming service was not Netflix. That title belongs to YouTube, which started streaming videos on its platform in 2005. There have been many small tech organizations that may have done streaming on their own network, but with limited success. Netflix, on the other hand, started offering its iconic service two years later, in 2007. Still, for all intents and purposes, and given the different business models of the two businesses, over the next few paragraphs, we will often refer to Netflix as the "first" VOD streaming service.
Netflix was the brainchild of two entrepreneurs, Reed Hastings and Marc Randolph; they launched their company in 1997, right in the middle of the internet bubble, where anything ".com" was almost guaranteed to be a success. It was in this scene that Netflix was introduced. When the Internet bubble burst, it all came tumbling down. Surviving it was the first hurdle that the nascent company had to overcome. With Marc Randolph as its helmsman, he steered the ship into the 2000s.
By that time, the company was hemorrhaging money; its video-on-demand business model was bleeding it dry, a challenging problem that was the catalyst for its current subscription business model. Instead of renting DVDs, which would have had to generate 15 to 20 rent-outs for the company to break even, the company shifted to a recurring business model—the subscription model—which allowed it to lock customers in, resulting in a much higher conversion rate. Its second innovation was the queue system, where customers would select the movies they would like to watch next. This had two major consequences: it reinforced the customer conversion rate and justified the elimination of late fee charges since subscribers were more eager to receive their next film.
David and Goliath
During its early years, Netflix was not profitable; it attained that status much later, in 2006, to be precise. To alleviate the financial pressure, they sought out Blockbuster, which was a DVD rental giant back in its heyday and an icon of the 90s. When Netflix's founder proposed the sale of 49% of the company's stake for 50 million USD, Blockbuster declined the offer. Today, Netflix is valued at 106 billion USD, while the former giant has atrophied to a single store in Bend, Oregon, a true modern David, and Goliath story.
The streaming wars
The most prominent players:
The word "wars" might seem a bit dramatic here, but once we delve deeper into the ins and outs of that period of time, which saw the clash of industry titans, no words can be more befitting. However, before we move into that, we will be introducing the main players on the scene that have shaped or are shaping the current landscape:
Netflix: Netflix needs no introduction; it has already etched itself a name in the history of entertainment, from its humble beginnings to becoming a household tech/media company with an offering of over 17,000 titles internationally. On the artistic front, the company boasts 182 Emmy awards for its Netflix originals (between 2013 and 2022) and 16 Oscars as of the moment of writing this article.
Prime Video: Prime Video is a subscription video on-demand over-the-top streaming and rental service from Amazon. The streaming service prides itself on having a catalogue of a staggering 24,000 movies and over 2,100 shows to choose from. Much to the delight of its viewers, the platform's offering will be nourished thanks to the recent deal that Amazon struck to acquire MGM in May 2021. They will be able to enjoy popular franchises such as "Rocky", "James Bond", and "The Real Housewives". Not to mention the latest installment of the Lord of the Rings universe, "The rings of power", a series that cost the studio a shocking 1 billion dollars to produce, an investment that will be detrimental to the studio's future, according to a company insider.
Apple TV+: Another giant that decided to foray into the streaming service world, launching its service in November of 2019, Apple is set on carving itself a piece of that cake, and so far, it seems to be doing just right. A reflection of its success can be seen in the 2022 Oscar ceremony, where the company made history with "CODA" winning Best Picture, a first for any streaming video company. Not to mention that the company has the highest average IMDB score among its peers, standing at a 7.08 IMD average, which might be largely due to its limited library of content, but if the recent awards that the company garnered are anything to go by, the platform seems to be focusing more on quality than quantity.
Disney+: Following in the footsteps of Apple TV+, a long overdue step for Disney, they announced their own streaming service, Disney+, in November of 2019, the same month as Apple. The two-year-old platform has become a streaming behemoth in its own right, offering around 500 films, 15,000 episodes, and 80 Disney+ originals (UK Disney+ offering), allowing viewers to access some of the most beloved franchises (e.g., Marvel, Star Wars, Pixar, and so on).
HBO Max: HBO Max has been around for only two years, but it has capitalized on the legacy of its namesake, "HBO", a household name in the entertainment industry that has been around for decades. With many productions being generational defining pop cultural icons, such as "The Sopranos", "The wire", "Game of Thrones", and the current crown jewel, "House of the dragon" which got off to a very good start and seems to be going full steam ahead with HBO reporting a record-breaking 25 million viewers for its first two episodes, and with more series being developed in the fantasy world created by George RR Martin, HBO Max's star can only shine brighter. Not to mention the planned merger with the discovery+ streaming service, which will bring a whole new catalog to the service along with its subscribers.
The late mouse gets the cheese:
Until recently, Netflix enjoyed its position as the undisputed king of the streaming world, well ensconced on its throne, until the big studios realized the potential of the market; this paved the way to the so-called "streaming wars".
Prior to 2018, consumers had to navigate a limited offering of streaming services, mainly Netflix, Amazon prime, and Hulu, plus a few smaller niche players. However, the arrival of Disney + and apple TV+ changed the scene dramatically, with both capturing huge market shares and leaving Netflix hanging by a thread. This culminated in the company announcing its first negative subscriber growth for the first time in a decade, a hiccup that was further compounded by the news that, in the last quarter (Q3 2022), Disney edged past Netflix's total number of subscribers with a total of 221 million subscribers. Although this total includes Disney+, ESPN+, and Hulu subscribers, it is a significant blow to Netflix, which has held first place for far too long than any real competition would allow.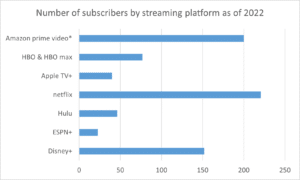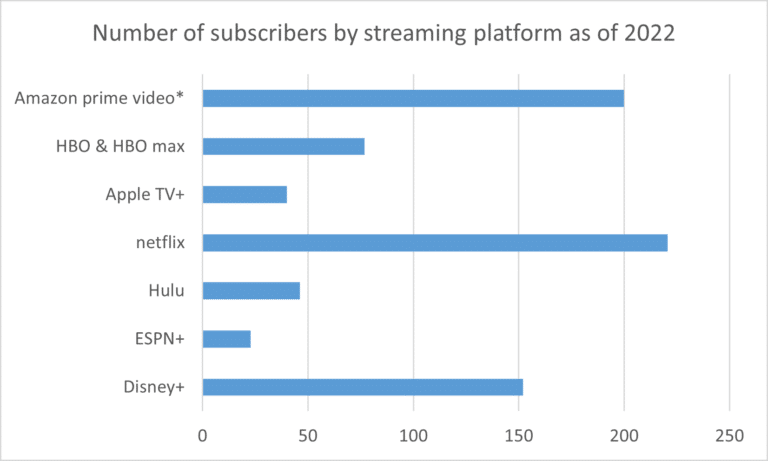 *Data for Amazon video prime is based on a late 2021 amazon announcement,
* Data for Disney+, ESPN+, Hulu are from Disney's Q3 2022 earning call,
*Netflix numbers from Q2 2022 earning call,
*HBO & HBO max numbers are from Q1 2022,
* Apple provided few financial details about Apple TV+, the number in the chart is an estimate,
Streaming services: A new age
At first, the streaming service world seemed like the perfect cure for a sickness that plagued cable TV: fragmentation. There were too many cable TV providers for consumers to choose from and not enough money to spend. Then came the likes of Netflix, a much-needed solution to a problem that overstayed its welcome. By producing and licensing productions from various companies, it provided the most extensive catalogue to consumers. This strategy was going Netflix's way for a while, until the major media conglomerates realized that they could get a piece of the streaming cake. Streaming platforms started to mushroom all over the place, fragmenting the market further and further, going full circle to the point that started all of this, and putting strain on consumers and even more stress on streaming companies that would have to fight for market share.
In the face of rising competition, companies are trying new avenues to distinguish themselves, some of which are:
Investing in content: in the streaming world, content is king, which is why so many companies are spending literal billions to reinforce their existing catalogs. To that end, Disney is the forerunner, spending approximately $33 billion, followed closely by Netflix, which is allocating a budget of $19 billion for its TV shows and movies; meanwhile, the other industry giant, prime videos, seems to have budgeted $13 billion in 2021, whereas Apple is very cagey about its budget for its TV shows and movies. One thing is certain: whatever that budget is, Apple would be able to afford it.
Ad tiers: In an effort to stem the losses sustained last quarter, Netflix is intending to launch a cheaper ad-supported tier. The new offer was set to be available starting 2023, but in light of the recent announcement by Disney, which is planning on launching the same product for its streaming platform Disney+, Netflix has advanced its release date to November in an effort to get ahead of Disney+'s planned launch.
Raising prices: According to BBC news, the price of ad-free Disney+ will increase by 38% to $10.99, a $3 per month increase starting in December. The same thing is true for Hulu, where prices for the offering without ads will rise by $2 per month, from $12.99 to $14.99. As for Netflix, the service's basic plan now costs $9.99 per month (up from $8.99), its standard tier costs $15.49 per month (up from $13.99), and its 4K tier costs $19.99 per month (up from $17.99). All in all, whether those price increases would prove fruitful or push consumers away is yet to be seen.
The least that can be said about the streaming industry right now is that it has already entered the second phase of the streaming war. Unlike the first phase, which was characterized by the launches of new streaming platforms left and right, this new phase seems to be of a different nature; it is more fitting to call it a war of attrition. With many platforms being backed by industry giants such as Disney +, Prime Video, and Apple TV+, companies that can withstand a prolonged war thanks to their diversified portfolios and deep pockets (Disney has already stated it plans to lose money on Disney+ until 2024), this puts Netflix in a delicate position. Depending on streaming as its main source of income and being deprived of its popular licensed products, the future looks uncertain for the streaming giant.
Author: Badr Kamli
Sources:
Was Netflix the First Streaming Service? – DIY SmartThings
The Netflix Revolution – History of Netflix (2022 Updated) (vdocipher.com)
I visited the last Blockbuster and it was a blast from the past (ktla.com)
As the streaming wars enter phase 2, TV takes inspiration from the past (newatlas.com)
Disney edges past Netflix in streaming subscribers as it raises ad-free prices | Walt Disney Company | The Guardian
FY2022_Q3_PR_Ex99.1 (thewaltdisneycompany.com)
Emmy Awards: Netflix nominations and wins 2013-2022 | Statista
What Is Amazon Prime Video? a Breakdown of Everything You Need to Know (businessinsider.com)
Apple TV+ has highest average IMDb score of any streaming service | iMore
Which streaming service is the best value for money? | Self.
'Succession' Wins Best Drama at Emmys as HBO Triumphs Again – The New York Times (nytimes.com)
Investors alarmed as streaming services lose their magic touch | Netflix | The Guardian
What the Top 7 Streamers Will Spend on Content in 2022 | IndieWire