Regulatory Sandboxes: Fostering Innovation
Recent technological advancements have increased the pace of innovation and progress, transforming industries from finance to healthcare to transportation. However, as these new technologies emerge, they often outpace existing regulatory frameworks, posing challenges for businesses seeking to implement innovative solutions. Many recent technologies, such as generative AI solutions, are not bound by any regulation worldwide. Thus, their usage can be applied either to foster progress or cause harm. To bridge this gap, regulatory sandboxes have gained traction as a valuable tool to foster innovation while managing risks and laying the foundations for effective regulations. In this article, we will delve into the concept of regulatory sandboxes, their benefits, and their impact on various sectors.
What are regulatory sandboxes?
Regulatory sandboxes are controlled environments created by regulatory authorities to allow businesses to test innovative products, services, or business models in a live environment under relaxed regulatory requirements (Government of Canada, 2022). They allow businesses to experiment with their innovative ideas, gather data, and learn from real-world interactions, while regulators monitor the process and assess risks. Regulatory sandboxes are typically time-limited and offer a flexible regulatory framework that balances innovation and consumer protection (Federal Ministry for Economic Affairs and Climate Action, 2022).
Benefits
Regulatory sandboxes provide a safe space for businesses to test and refine their ideas without concerns about regulatory limitations stifling innovation, as they encourage experimentation and allow businesses to identify and mitigate risks early in the development process. Reducing regulatory barriers to entry for new and disruptive technologies while maintaining suitable safeguards can fast-forward the pace of innovation (OECD, 2020).
Regulatory sandboxes also allow reducing the time and cost of getting innovative ideas to market, enabling more products to be tested and potentially introduced to the market, and allowing authorities to work with innovators to ensure that appropriate consumer protection safeguards are built into their new products and services (FCA, 2015).
A regulatory sandbox also has the potential to create more effective competition by enabling greater access to finance for innovators. 40% of firms that completed the inaugural programme of the financial services sandbox of the UK's Financial Conduct Authority (FCA) received investment during or following sandbox testing (FCA, 2017).
Examples of regulatory sandboxes in various sectors
Regulatory sandboxes have gained prominence across various sectors. In 2020, there were around 73 sandboxes in 57 jurisdictions, with East Asia and the Pacific leading the world regions with 19 sandboxes, as seen in Figure 1 (World Bank, 2020).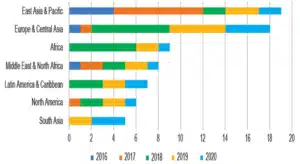 As of January 2023, the Fintech sector leads the regulatory sandbox market with 94 regulatory sandboxes launched globally, followed by the energy sector, as seen below (Kearney, 2023).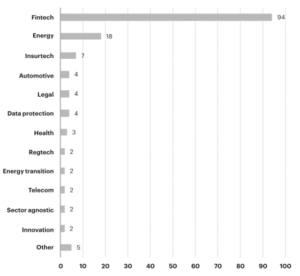 In the financial sector, the FCA launched the world's first regulatory sandbox in May 2016 to respond to the legal uncertainties created by the increasing emergence of fintech products and services. Since its launch, the FCA's sandbox has received more than 550 applications and conducted experiments with more than 160 companies using AI/machine learning, DLT/blockchain technology, open banking, APIs, digital ID, and predictive analytics (Kearney, 2023).
Another example is the Monetary Authority of Singapore (MAS), which launched its FinTech Regulatory Sandbox in November 2016 to enable innovative technology experimentation while relaxing its prescribed regulations (MAS, 2016). Since then, other countries have followed and created their own regulatory sandboxes: the Saudi Central Bank's (SAMA) regulatory sandbox, Australia's Enhanced Regulatory Sandbox (ERS), the UAE's ADGM RegLab, and others.
In the energy sector, the U.S. Department of Energy (DOE) established the Grid Modernization Lab Consortium, which enables companies to test and validate advanced grid technologies in real-world environments. The lab offers a comprehensive portfolio of 88 projects that span over the course of 3 years.
Another example is the UK's Office of Gas and Electricity Markets (Ofgem) establishing the Energy Regulation Sandbox, which is designed to allow innovators to trial or launch new products, services, methodologies, and business models without some of the usual rules applying. The goal of the Ofgem is to provide derogations for some regulations that block innovative ideas from entering the market.
In the healthcare sector, the Health Innovation Hub Ireland (HIHI) was launched in 2016 by the Department of Business, Enterprise, and Innovation and the Department of Health, supported by Enterprise Ireland (EI) and the Health Service Executive (HSE). The hub offers the opportunity for pilot and clinical validation studies and allows companies to collaborate with healthcare providers and regulatory authorities to develop and test innovative healthcare technologies, with the goal of improving patient outcomes.
Besides the previously mentioned sectors, regulatory sandboxes that are applicable to data protection and technologies such as AI also exist. The sandbox of the UK's Information Commissioner's Office (ICO) welcomes participants who create products and services that utilize personal data either in emerging technologies, such as consumer healthtech, next generation IoT, immersive tech (AR and VR), or biometrics (fingerprint, facial, voice, etc.). Similarly, Singapore developed a data regulatory sandbox to support businesses operating with data-driven technology to ensure compliance with data protection policies in the country. Furthermore, in Norway, the Data Protection Authority (DPA) created the "Sandbox for responsible artificial intelligence" to promote the development of innovative AI solutions that, from a data protection perspective, are both ethical and responsible. Additionally, the sandbox aims to understand how AI-based products and services can meet the requirements imposed by data protection regulations in practice, and the results are expected to be communicated to the wider public for the benefit of non-participating organizations.
Regulatory sandboxes have emerged as a valuable tool for fostering innovation. They provide a safe space for businesses to test and refine their ideas while navigating complex regulatory requirements. They have accelerated the development and deployment of innovative technologies, facilitated collaboration between regulators and businesses, and influenced regulatory reforms at a broader level. As technology continues to evolve, regulatory sandboxes are expected to play an increasingly important role in mitigating the risks that might arise from the use of non-regulated technology products and services.
Sources
https://www.canada.ca/en/government/system/laws/developing-improving-federal-regulations/modernizing-regulations/what-is-a-regulatory-sandbox.html
https://www.bmwk.de/Redaktion/EN/Dossier/regulatory-sandboxes.html
https://www.fca.org.uk/publication/research/regulatory-sandbox.pdf
https://goingdigital.oecd.org/data/notes/No2_ToolkitNote_Sandboxes.pdf
https://www.kearney.com/industry/telecommunications/article/-/insights/regulatory-sandboxes-a-safe-environment-for-regulators-to-embrace-and-drive-innovation
https://www.fca.org.uk/publication/research-and-data/regulatory-sandbox-lessons-learned-report.pdf
https://www.mas.gov.sg/development/fintech/regulatory-sandbox
https://www.mas.gov.sg/news/media-releases/2016/mas-issues-regulatory-sandbox-guidelines-for-fintech-experiments
https://www.sama.gov.sa/en-US/Regulatory%20Sandbox/Pages/About-Us.aspx
https://asic.gov.au/for-business/innovation-hub/enhanced-regulatory-sandbox/#:~:text=The%20Australian%20Government%20has%20introduced,credit%20licence%20(credit%20licence)
https://www.adgm.com/setting-up/reglab/overview
https://www.energy.gov/gmi/grid-modernization-lab-consortium
https://www.ofgem.gov.uk/energy-policy-and-regulation/policy-and-regulatory-programmes/innovation-link
https://www.ofgem.gov.uk/publications/energy-regulation-sandbox-guidance-innovators
https://ico.org.uk/for-organisations/advice-and-services/regulatory-sandbox/
https://www.imda.gov.sg/how-we-can-help/data-innovation/data-regulatory-sandbox
https://www.datatilsynet.no/en/regulations-and-tools/sandbox-for-artificial-intelligence/
https://www.worldbank.org/en/topic/fintech/brief/key-data-from-regulatory-sandboxes-across-the-globe