Automotive Industry: What the future holds
The rapid evolution of technology has opened multiple doors for innovation. Despite the economic plunge caused by the COVID-19 pandemic, industries all over the world are trying to recover. Even better, they are coming back with greater visions. Industries have been increasingly focusing on developing unique and innovative products designed to address current needs while incorporating futuristic features. The automotive industry is no exception.
For decades, car producers and Original Equipment Manufacturers (OEMs) challenged themselves to offer customers a wide variety of cars, equipped with the latest technologies. Opportunities in the automotive industry seem nearly endless. However, two key trends are set to further push the automotive industry forward in the long run: electrification and connectivity. These trends are mainly driven by policy changes and technology.
Electrification
Initiatives & Regulations
Electrification in the automotive industry refers to the replacement of a car's Internal Combustion Engine (ICE) with an electric battery. Cars equipped with such "Engine" are referred to as Battery Electric Vehicles (BEVs), or simply EVs. One of their main benefits is their contribution to greenhouse gas (GHG) emission reduction, which is highly encouraged by policymakers and governments through various initiatives and regulations. Among these is the European Union's "Fit for 55" program, which aims to reduce GHG emissions by 55% by 2030 (McKinsey, 2021). As for the US, President Biden announced a new target of up to a 52% GHG reduction by 2030 (The White House, 2021). In Asia, India aims for a 45% reduction target by the same year (BBC, 2021). However, China, the world's number one in CO2 emissions, is still behind in such initiatives, having announced that it would reduce carbon emissions by 20% by 2035 and achieve neutrality by 2060 (IHS Markit, 2021).
Incentives
Besides the regulations, governments have introduced several incentives to encourage the use of EVs. In Europe, for instance, France and Poland offer grants which can go up to EUR 6,000, if some conditions are met, for the purchase of an electric or hybrid car. Italy provides incentives of up to 40% of the purchase price as well as tax exemptions for the first 5 years. In the US, car buyers can benefit from a federal tax credit of up to $7,500. In Asia, China proposed a tax exemption on purchases for 2 years, and India offers a subsidy of INR 10,000 ($136.4) per kWh.
Future projections
Electric vehicles are projected to become more widely available globally. Some countries are even planning to completely ban the sale of diesel cars, leaving electric vehicles with essentially no competition.
In 2020, more than 10 million electric cars were on the road globally. This number is set to grow to 300 million vehicles by 2030, according to the Net Emissions by 2050 Scenario (IEA, 2021). OEMs are also determined to increase their EV car production. According to the research team of Credit Suisse Global Auto, the global EV production share of total vehicle production is set to increase from 11% in 2020 to 62% in 2030, with the number of fully electric vehicles projected to reach around 29 million. (Embedded Computing, 2021).
While these figures might seem too ambitious, many OEMs have already started taking initiatives to reach that goal. For instance, Volkswagen Group, converted its German plant in Zwickau to produce EVs instead of ICE vehicles, making it the first large-scale EV production plant worldwide. Jaguar Land Rover (JLR), on the other hand, started on R&D of BEVs after a loan securement of EUR 749 million (Autovista, 2022). By 2030, several OEMs plan to reach about 50% as an EV fleet.
Percentage of OEM EV Fleet Over Time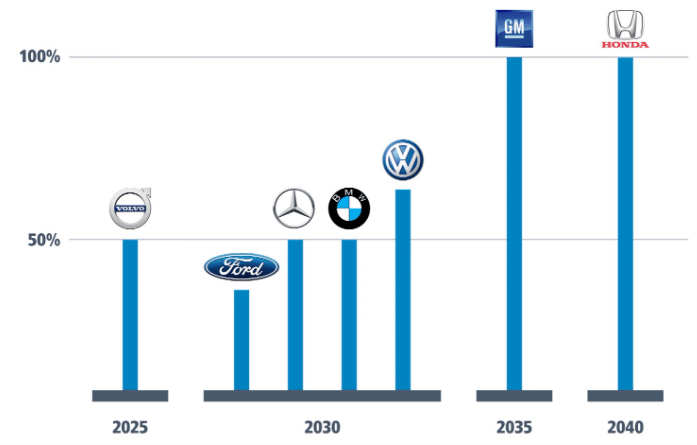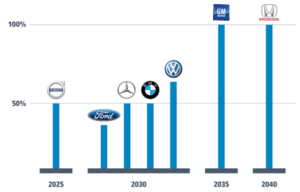 Sales of EVs are forecasted to represent 60% of all new vehicle sales, compared to 4.6% in 2020 (IEA, 2021).
 Projected EV Car Sales in Units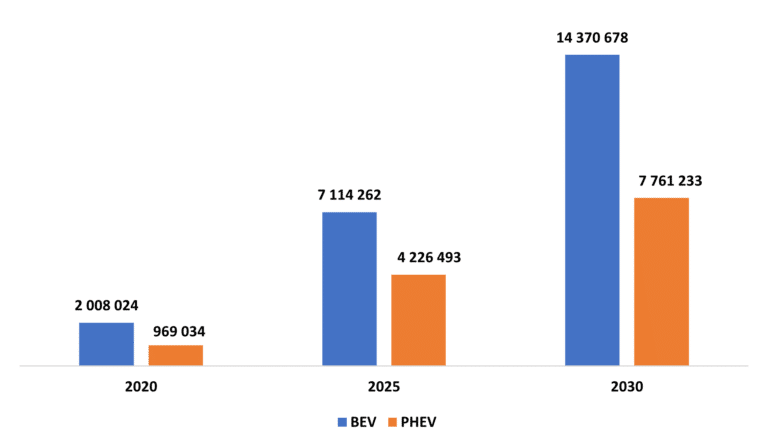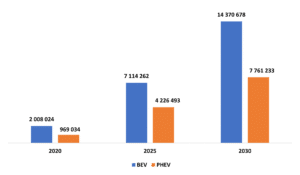 Electric Vehicle Chargers Market
The electric vehicle charger market is also expected to grow at a CAGR of 26.8% (2020-2027) to reach USD 25.5 billion by 2027.
A fast scenario projection done by the International Energy Agency sees the number of chargers publicly available around the world reaching 2.5 million chargers by 2030, from only 385,678 chargers in 2020.
One example of government incentives encouraging charging installation is France. The country offers a tax grant of up to EUR 300 per person for the installation of a charging station at home. This shows the emphasis governments place on making sure that it is more convenient to own an electric vehicle rather than a diesel engine car.
Connectivity
Apart from electrification, connectivity through technology is another factor contributing to the race to build the cars of the future. From digital screens to external platforms such as Android Auto or Apple CarPlay, we have witnessed the introduction of several connectivity features in the automotive industry in the last decade. Yet, the automotive industry is still looking for new ways to innovate. With the continuous efforts to integrate 5G, Internet of Things (IoT), and Artificial Intelligence (AI), automotive connectivity can only be seen as imminent.
The three pillars of connectivity
Connectivity can be separated into three pillars: infotainment, telematics, and infrastructure. Infotainment represents the link between the passengers and the vehicle, including in-car entertainment, integrated digital cockpit, heads-up display, and Wi-Fi. Telematics consists of the monitoring of information through telecommunication devices, including the cloud. It can allow the car to gather data on the driver's behavior, for example. The infrastructure connects the car to its surroundings, allowing it to recognize and distinguish traffic lights, pedestrians, and even other vehicles with the same feature(s).
Automation (Level 5)
Several features within automotive connectivity are growing, and one of them is driving automation. Connectivity will soon enable OEMs to provide the ultimate level of driving automation — level 5. Level 5 is the full automation level where the vehicle performs all the driving aspects without any supervision or human interaction requirements. According to a McKinsey report, this ultimate level is expected to be reached and widely adopted by 2030.
Vehicle-to-Vehicle (V2V)
Another feature is the Vehicle-to-Vehicle (V2V) connectivity, which enables vehicles to "talk" to each other through real-time data sharing. For instance, Stellantis, the joint venture between Fiat-Chrysler-Alfa Romeo (FCA) and the French PSA group, announced last year its software strategy, which aims to provide 36 million connected cars by 2030, through a 4-year investment of more than EUR 30 billion (Stellantis, 2021). Mercedes-Benz also announced plans to reach 20 million fully connected vehicles by 2025 (Automotive World, 2020).
Future projections
In 2020, the connected car market was worth around USD 55.6 billion, with nearly 47.5 million connected cars circulating worldwide. This same market is set to reach USD 191.83 billion, growing by 245% in 8 years (Carzato, 2021). By 2025, connected vehicles are expected to attain a share of 53%. The latter is expected to grow even more, reaching 77% by 2030 (Ericsson, 2021).
Overall, the automotive industry is heading towards a brighter and cleaner future. OEMs are extensively working on their R&D to create cars tailored to the customers' needs and suitable for the environment. While electrification will play a big role in reducing GHG emissions, connectivity will provide customers with interactivity and more comfort. What does this mean for OEMs? There will certainly be a massive need for expert skillsets to develop these cars of the future. Partnerships between car manufacturers might be a solution to overcome the skillset shortage. As for consumers, the main topic of debate will be data privacy. Connectivity will require access and storage of data, meaning that your personal car will have data on exactly where you have been every single time. However, according to Deloitte, this would not be an issue as consumers might consent to share their own data with their car's laptop, provided this would allow them to save time or money, and it would provide them with a safe driving experience.
Author: Mohamed Kamal
Sources:
https://www.iea.org/articles/global-ev-data-explorer
https://www.alliedmarketresearch.com/electric-vehicle-charger-evc-market
https://www.mckinsey.com/industries/automotive-and-assembly/our-insights/why-the-automotive-future-is-electric
https://www.whitehouse.gov/briefing-room/statements-releases/2021/04/22/fact-sheet-president-biden-sets-2030-greenhouse-gas-pollution-reduction-target-aimed-at-creating-good-paying-union-jobs-and-securing-u-s-leadership-on-clean-energy-technologies/
https://www.french-property.com/news/money_france/tax_credit_purchase_electric_cars
https://cleantechnica.com/2022/02/01/polands-ev-market-is-quickly-catching-up-with-the-rest-of-europe/
https://blog.wallbox.com/italy-ev-incentives/
https://www.fueleconomy.gov/feg/taxevb.shtml#:~:text=Federal%20Tax%20Credit%20Up%20To,local%20incentives%20may%20also%20apply.
https://e-amrit.niti.gov.in/electric-vehicle-incentives
https://autovista24.autovistagroup.com/news/analysis-eu-electric-vehicles-gain-share-market/
https://www.iea.org/reports/global-ev-outlook-2021/trends-and-developments-in-electric-vehicle-markets
https://embeddedcomputing.com/application/automotive/electric-vehicles-powertrain/the-race-to-automotive-electrification-what-it-takes-to-win
https://www.volkswagenag.com/en/news/2019/03/VW_Group_JPK_19.html
https://www.cnbc.com/2021/05/26/ford-ups-ev-investments-targets-40percent-electric-car-sales-by-2030-under-latest-turnaround-plan.html
https://www.carzato.com/the-future-of-connected-cars/#:~:text=There%20were%20roughly%2047.5%20million,to%20%24191.83%20billion%20by%202028.
https://www.ericsson.com/en/blog/2021/6/charting-the-future-of-connected-cars-and-mobility-with-5g
https://www.stellantis.com/en/investors/events/sw-day-2021?adobe_mc_ref=
https://www.jabil.com/blog/automotive-connectivity-trends-fueling-the-future.html
https://www.mckinsey.com/features/mckinsey-center-for-future-mobility/overview/autonomous-driving
https://www.automotiveworld.com/news-releases/new-mercedes-benz-strategy-announced-targeting-structurally-higher-profitability/
https://ihsmarkit.com/research-analysis/auto-electrification-and-decarbonization-shift-toward-net-zero.html
https://medium.com/connectedcars/key-trends-shaping-the-future-of-the-automotive-industry-3655c15687c7