Could 3D printing revolutionize manufacturing in Africa and the Middle East?
Additive manufacturing, or 3D printing, is a truly disrupting phenomenon whose market, technologies, knowledge, and field of applications are witnessing an exponential growth along the last 10 years.
Counted among the main technologies leading the 4th Industrial Revolution, Additive Manufacturing is currently transforming industrial production:
At a company level, in the sense of redesigning the entire production line rather than just in terms of machinery replacement,
At a macro level, altering the whole supply chain and the distribution of competitive advantages among it.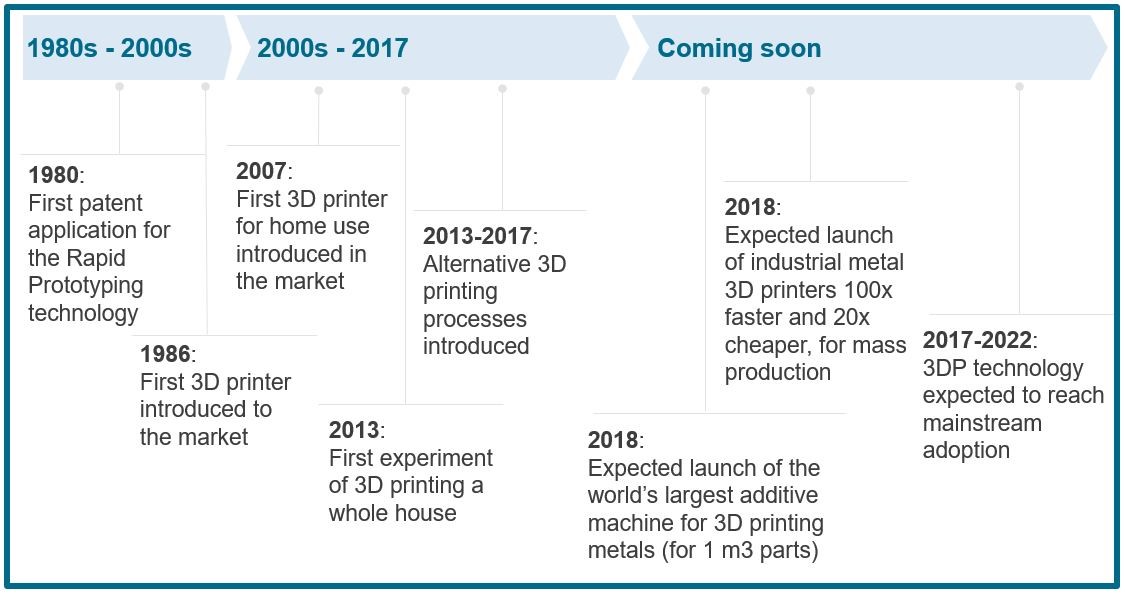 Additive manufacturing – Timeline
The high technological content of this revolution could make one believe that this is an exclusive prerogative of western economies or developed countries. Instead, reality shows a remarkable dynamism within this field in geographical areas such as the Middle East and some African countries, where the game-changing rule of additive manufacturing represents an opportunity to quickly climb the international competitiveness rankings.
Middle East
Additive manufacturing is experiencing notable growth in the Middle East, where many countries are willing to seize the opportunities arising from the recent technological developments and gain a leading edge in the field.
As an indicator for this region, the sales of 3D printing materials are forecasted to exceed USD 550 million by 2025, growing at a CAGR of 16.7%. Israel is expected to witness the highest growth rates of the region (CAGR 20.4%), but the UAE will absorb the biggest share of these materials.[1]
UAE leaders publicly disclosed their strategic will of turning the Emirates into a worldwide recognized hub dedicated to 3D technology. Some figures are already attracting the main players from all over the world:
25% of buildings in Dubai to be based on 3D printing technologies by 2030,
AED 1.7 billion (USD 460+ million) value for the 3D printed medical products by 2025
AED 2.8 billion (USD 760+ million) value for the 3D printed consumer products, like household items, jewelry, games, optics, etc, by 2025[2].
In the Middle East, the appealing opportunities refer to all levels of the value chain, with many operators actively involved.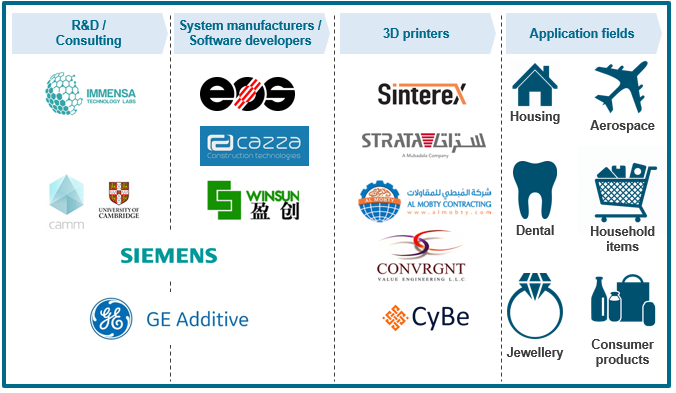 Middle East – 3D printing value chain (not exhaustive)
Countries such as KSA and Qatar are quite active in this field, where several initiatives took place from an R&D standpoint to a direct industrial application point of view.
However, UAE maintains the greatest growth potential within the region, particularly in the aerospace sector, dental industry and academic environments[3]. The run for leadership is reflected by the achievements that the Emirates already reached in this field, including being:
The first country in the Middle East to use 3D printing technology for medical purposes[4].
The first country in the world to have the first fully 3D printed office building[5].
Africa
The number of 3D printing purchases in Africa was expected to rise by 23% through 2017[6], a figure that might not be particularly significative, given the current technology base of the continent.  However, when it comes to modern technologies, the general opinion is that Africa is three to four years behind first world nations, at most.
Increasing the country competitiveness by transitioning to high-value manufacturing is one of the goals that some African economies are pursuing by attracting and developing capabilities in 3D printing technology. While this adoption is part of a deliberate strategy in the case of South Africa, other initiatives are also arising in many countries.
South Africa
Already actively engaged in additive manufacturing, in South Africa the Department of Science and Technology elaborated in 2016 the official strategy to address the future market opportunities and position the country as a global competitor in this field. The strategy represented the attempt to capitalize and optimize the development of this industry, showed by the growth in the number of 3D machines from 268 in 2011 to 3,500 by the end of 2015[7].
The South African government is also directly backing up specific projects. An example is Aeroswift, a collaboration between aviation manufacturing solutions provider Aerosud and the South African Council for Scientific and Industrial Research (CSIR), to build the world's largest and fastest additive manufacturing system, to 3D print titanium aircraft parts from powder[8].
Currently, the country hosts 49 business operators that provide services in this field, including consulting and design service providers, material suppliers, technology suppliers and 3D printers[9].
Jewellery, tooling, and prototyping are the current main application areas, but many sectors are included in the government strategy: aerospace and military, medical and dental, traditional manufacturing (tooling, casting, refurbishment), automotive, materials development (titanium), and so on.
Other Countries
With its Industrial Acceleration Plan, the Kingdom of Morocco attracted the investments of Thales Group, who identified this country to be its global center of expertise for 3D printing and inaugurated its Industrial Competence Centre to develop and print complex metal parts for the aerospace sector[10].
General Electric, through its GE Garage program, opened permanent "garages" in Algeria and Nigeria, to provide skills training programs in advanced manufacturing technologies and support innovative local entrepreneurship. The garage in Lagos already delivered Elephab, a technological start-up initiative to prototype and 3D print locally replacement parts for various industries, that already received attention (and funding) from US venture capital funds[11] [12].
In Togo, an inventor realized the first 3D printer created entirely from recycled electronic waste, with the purpose of printing small objects like medical prostheses[13]. In Kenya, the African Centre for Technology Studies and the Kenyatta University are partnering for creating a center of 3D printing excellence[14]. Finally, Egypt, Tanzania, and other countries are observing a growing interest for this technology, with their most brilliant mind exploring its applications in a way that, if well-coordinated and backed, could significantly boost the competitiveness of their industrial sector.
Antonio Pilogallo, Senior Associate at Infomineo.
Sources:
[1] https://www.futuremarketinsights.com/reports/middle-east-3d-printing-materials-market
[2] https://3dprint.com/131629/uae-3d-printed-homes/
[3] https://www.mideastplast.com/news/dubai-a-promising-market-for-3d-printing/
[4] https://3dprint.com/111017/al-qassimi-hospital-3d-models/
[5] https://3dprint.com/126426/3d-printed-museum-office/
[6] http://uacciap.org/3d-printing-africas-way-lead-new-industrial-revolution-2/
[7] http://www.rapdasa.org/wp-content/uploads/2017/02/South-African-Additive-Manufacturing-Strategy.pdf
[8] https://3dprint.com/166672/south-africa-aeroswift-project/
[9] http://www.rapdasa.org/members/
[10] http://www.mcinet.gov.ma/en/content/thales-launches-global-centre-expertise-morocco-specializing-metal-additive-manufacturing
[11] http://www.3ders.org/articles/20161123-ge-opens-lagos-garage-new-home-for-nigerian-3d-printing-innovation.html
[12] https://www.3ders.org/articles/20171004-nigerian-startup-elephab-aims-to-increase-local-manufacturing-with-3d-printing.html
[13] http://observers.france24.com/en/20161110-togolese-invent-3d-printer-waste
[14] https://3dprintingindustry.com/news/3d-printing-matters-africa-80862/