How is Africa perceived by foreign investors? – It depends on where they are from.
Infomineo provides services to companies seeking either a nearshore outsourcing platform for their EMEA operations or looking for information of African and Middle Eastern services. To promote these services my partner Hamza and I travel extensively to visit our clients and prospects around the world, including in the USA, France, Germany, the UK, Switzerland, Belgium, the UAE, South Africa and of course where our head office is based, in Morocco. Although these insights may not be statistically valid we have been able to see different attitudes towards Africa.
Clients and prospects from the USA, Germany, the UK and Belgium are, so far, the least enthusiastic about investing in Africa. It is not that they don't see an interest in Africa, but many want to wait and see, not convinced that the growth rates that we currently see are sustainable. For some, this attitude is driven by the fact that they see other, more promising opportunities, especially in Asia or in their home markets. For others, like in the UK, it is driven by the fact that the industries where they are the strongest (capital markets in this case) are not yet ready to grow in Africa.
Our contacts in France, the UAE, and Switzerland are more enthusiastic about the region, for different reasons. France has strong historical ties with Northern and Western Africa and as its economy is deeply depressed, French entrepreneurs are looking for opportunities elsewhere. The country is for the most part beaten by Germany in Asia, Africa appears as a "backup" promised land.
In the UAE our clients are mostly interested by investment opportunities either in established businesses or in real estate. As they often have a long term perspective on their investments they seem ready to accept a higher volatility as long as the long term valuation potential is there.
Swiss companies are in an opposite situation vis à vis their UK counterparts. They are strong in markets, like raw materials trading (especially agriculture), pharmaceuticals or consumer goods, where most of Africa's potential lie: resources and an emerging middle class. Their focus on Africa is, therefore, very logical.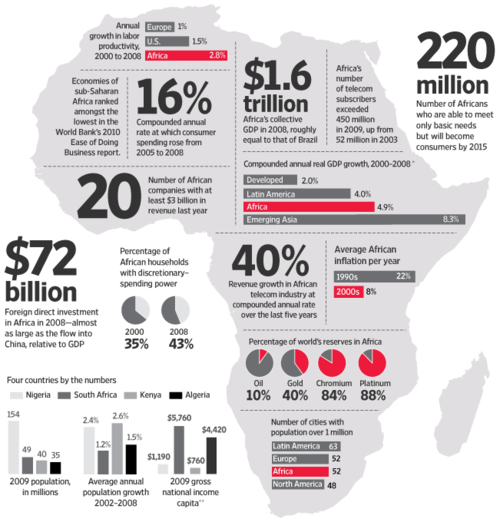 Source: WJS's Infographic on Africa: "The New Gold Rush"
Finally, Morocco and South Africa are two very interesting cases. Both countries companies have historically focused on their domestic markets, which offered strong growth rates and a relatively better business environment than the rest of Africa. Their economies being strongly linked to the Western ones their growth rates have slowed down and they seek to invest their cash elsewhere. It is therefore natural for them to go to neighboring countries looking for business opportunities, mostly in Western Africa for Moroccan companies through their strong banks, insurers and telecom players, and in Southern Africa, up to Nigeria, Angola, and Kenya, for South African companies from the retail, mining and banking sectors.
We have not yet been exploring the Asian markets but it must probably be a different story to be explored in future posts.
Martin TRONQUIT, Managing Partner, Infomineo.