Unlocking Vital Data: Healthcare Data Analytics
A massive amount of data is generated every second by billions of active users across many devices, such as computers, tablets, and mobile phones. Over the past decade, from 2010-2020, the amount of data created increased by an astounding 5,000%. Data is everywhere, but it is worthless unless it is properly processed and analyzed.
Nowadays, data analytics serves not only to formulate business strategies and optimize performance but also to improve the lives of individuals. Data analytics is particularly important in the healthcare sector. The efficiency of healthcare organizations depends on converting clinical raw data into valuable and actionable insights to improve patient and clinical outcomes. For instance, electronic health records (EHRs) and other health-related smartphone apps are now essential to determine the patient's status, optimize the utilization of resources, and provide efficient solutions.
What is "Data analytics"?
In general, data analytics is the process of collecting, transforming, and analyzing data to identify trends and patterns in order to draw conclusions, make predictions, and drive informed decision-making. Data can be analyzed manually or using tools such as software and algorithms.
Data analytics can help optimize operational efficiency, increase revenues, enhance customer service, and boost performance.
There are four main types of data analytics:
Descriptive data analytics uses past and current data to identify trends and relationships and to understand what's already happened in an organization. One of the common uses of descriptive analytics is the tracking of KPIs to assess the health and value of a business.
Diagnostic data analytics uses the insights identified by the descriptive analytics and dives deeper to understand the causes of the outcomes. Diagnostic data analytics answers the question "Why did it happen?".
Predictive data analytics explores historical data and past trends to predict future outcomes. Predictive data analytics answers the question, "What is likely to happen?"
Prescriptive data analytics combines the insights of all the previous data analytics types to identify what actions to take to achieve certain goals or outcomes. It suggests the best possible next steps based on simulations aiming to optimize the performance of an organization. Prescriptive analytics answers questions such as "What is the best course of action?" and "What if we try this?".
What are healthcare data inputs and tools?
The healthcare industry is generating a colossal amount of data linked to the health of a patient and the population as a whole. Healthcare data is being collected from a variety of health information systems (HIS) and tools, allowing data to be stored, shared, and analyzed. These tools and systems include:
Electronic Health Records (EHR)
Personal Health Records (PHR)
Electronic Prescription Services (E-prescribing)
Patient Portals
Master Patient Indexes (MPI)
Health-Related Smart Phone Apps
Healthcare data is valuable knowledge about the global healthcare system, including patients, staff, and hospitals' performance. Initially, data inputs are unstructured, uneven, and can be difficult to understand. Data analysts, with the help of several analytical programs and software, clean and validate the gathered data to draw valuable and actionable insights that can help stakeholders formulate decisions.
How could data analytics serve the healthcare system?
The main function of healthcare data analytics is to gain better insights and enable healthcare organizations to make well-informed clinical and business decisions. Examples of healthcare applications of the four types of data analytics mentioned above include:
Descriptive analytics: analyzing the number of positive tests in a specific area in order to determine how contagious a virus is.
Diagnostic analytics: detecting an illness or an injury based on the symptoms experienced by a patient.
Predictive analytics: exploring the case data of an infectious disease in order to forecast its spread in the future.
Prescriptive analytics: examining the pre-existing conditions of a patient in order to determine the risk of future conditions and implement specific preventive treatments.
Healthcare data analytics applications can lead to several benefits. According to ArborMetrix, healthcare data analytics is helping organizations enhance their competitive position, improve clinical quality and patient care, promote research advancement, and optimize internal processes (see image below).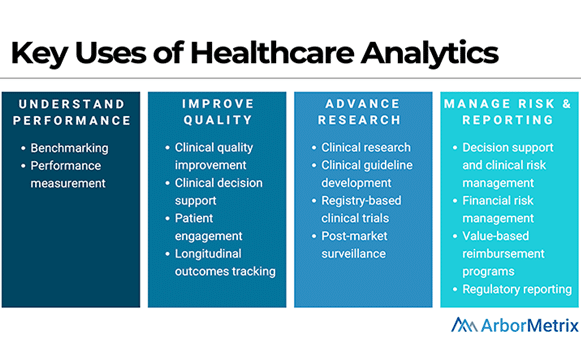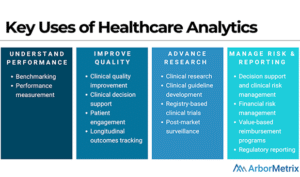 These key applications cannot be realized without extensive use of advanced software and tools that transform unorganized data into actionable insights. These include artificial intelligence tools, cloud computing platforms, blockchain networks, health information exchanges, and machine learning models.
Market overview of healthcare data analytics
The fast rate of technological advancements, the increase in healthcare expenditures, and the massive digitalization of the healthcare industry are driving monumental growth in the healthcare analytics industry. According to Grand View Research, the global healthcare analytics market was valued at USD 29.1 billion in 2021 and is forecasted to grow at an annual growth rate of 21.5% between 2022 and 2030 to reach USD 167.0 billion by 2030.
Now let's look at some of the leading market players that are constantly innovating and using cutting-edge technology to interpret healthcare data and deliver solutions to healthcare providers and institutions. These leading companies include:
UnitedHealth Group
McKesson Corporation
Health Catalyst
Microsoft
IBM Corporation
Cerner Corporation
Allscripts Healthcare Solutions
MedeAnalytics, Inc.
Apixio Inc.
Lumiata Inc.
Healthcare data analytics in the time of COVID-19
The pandemic has had a significant economic and social impact around the world. Disrupted supply chains, medical supply shortages, and the healthcare system's burden are some of the drastic examples of the detrimental effects of the COVID-19 crisis.
Big data analytics tools have played a significant role in decision-making to counteract the effects of the pandemic. The enormous amount of data generated by the pandemic incentivized researchers and providers to turn to data analytics and predictive modeling as a means to optimize resource allocation, predict surges and outbreaks, improve patient care, and implement preventive measures.
During the pandemic, health organizations started to leverage predictive models to better identify the patients at risk by understanding the factors influencing disease severity and forecasting the number of cases, hospitalization rates, and death rates. In June 2020, Cleveland Clinic researchers developed a predictive analytics model that aims to determine an individual's likelihood of testing positive for COVID-19 and the potential consequences.
Predictive models were also useful at a time when patients overwhelmed hospitals and health systems. Many organizations have implemented predictive tools to optimize resource allocation. It has helped hospitals predict staff needs, bed capacity, ventilator usage, and many other metrics.
The use of data analytics in the healthcare industry has become crucial. By collecting, processing, and analyzing data, healthcare organizations are able to make more informed decisions. Data analytics in healthcare allows organizations to improve patient care, enhance their competitive position, advance their research efforts, and manage their financial and clinical risk.
The global healthcare analytics market is rapidly expanding. This is driven by the monumental rate of technological advancement and the digitalization of the healthcare industry. New technologies continue to emerge at a high pace, driving the healthcare industry toward a major change. From artificial intelligence (AI) to natural language processing (NLP) to machine learning, data analytics is changing every facet of the healthcare industry.
While healthcare data analytics has a bright future ahead, there are also major security concerns. Patient data is particularly sensitive, and it is difficult to determine the acceptable uses of data while prioritizing security and patients' right to privacy. Healthcare data, no matter how crucial it is for medical scientific development and the success of healthcare providers, should only be utilized if security and privacy concerns are addressed.
Author: Anas Ghoulam 
Sources
https://www.arbormetrix.com/blog/intro-big-data-analytics-healthcare
https://online.hbs.edu/blog/post/data-analytics-in-healthcare
https://www.sisense.com/glossary/healthcare-analytics-basics/
https://www.grandviewresearch.com/industry-analysis/healthcare-analytics-market
https://online.maryville.edu/blog/data-analytics-in-healthcare/
https://online.shrs.pitt.edu/blog/data-analytics-in-health-care/
https://healthitanalytics.com/news/how-big-data-analytics-models-can-impact-healthcare-decision-making
https://www.ibm.com/topics/healthcare-analytics
https://www.emergenresearch.com/blog/top-10-leading-companies-in-the-healthcare-analytics-market
https://www.testingxperts.com/blog/Big-Data-Analytics-Healthcare
https://www.oracle.com/business-analytics/data-analytics/
https://www.naukri.com/learning/articles/types-of-data-analytics-and-their-applications-in-real-world/
https://healthitanalytics.com/news/3-ways-healthcare-is-using-predictive-analytics-to-combat-covid-19
https://www.sas.com/en_us/insights/articles/analytics/fighting-coronavirus–4-ways-analytics-is-making-a-difference.html
https://www.marketsandmarkets.com/Market-Reports/healthcare-data-analytics-market-905.html
https://www.mordorintelligence.com/industry-reports/global-healthcare-analytics-market-industry
https://www.alliedmarketresearch.com/big-data-analytics-in-healthcare-market