Consumer trends and the demand for sustainable products
Sustainability Concerns Continue to Rise
Issues of sustainable production and consumption have, over the last ten years, become increasingly important in the eyes of consumers around the world. Companies have had to make changes to meet these new expectations and can expect to do more of the same, in the future, in line with the continuation of this trend. 
According to a 2015 study by NielsenIQ, 66% of global consumers surveyed responded they would be willing to pay more for sustainable brands, up from the 50% who said they would do so in 2013. Almost half responded they would pay more to environmentally friendly companies and those demonstrating a strong commitment to social values. In recent years, pressure on companies to pay attention to issues of sustainability has only continued to mount. 
In a 2018 survey conducted across 5,000 consumers in Europe, for instance, nearly 40% of respondents said their top priority was that food and drink be produced in a way that doesn't harm the environment, while almost a third prioritized paying workers a fair wage and ensuring that animals were not harmed during production. Almost three-quarters of all respondents wanted to know how their food is produced and a similar number wanted food companies to say where the ingredients in their products come from. Further, 61% reported looking for information about how food companies protect workers' human rights. 
Respondents placed even greater emphasis on the need for companies to act on global challenges. Protection of the environment was cited as important by 88 % of those surveyed, with 85% and 84%, respectively, responding similarly with regards to tackling climate change and global poverty.
Sustainability: The Global Nature of the Change in Consumer Preference 
The European findings are echoed in a 2018 Accenture study of 35,000 people in 35 countries, which revealed that two-thirds of consumers make decisions about what to buy based on a company's transparency, while 62% wanted companies to have ethical values and demonstrate authenticity. 
A BCG survey conducted in July 2020 found that in the six-member states of the Gulf Cooperation Council, more than 80% of consumers said they were willing to live more sustainability. Moreover, 56% of respondents said they felt strongly about the need to adopt a sustainable lifestyle
The 2021 Voice of the Consumer: Lifestyles Survey, published by Euromonitor International, further demonstrates the extent to which changing consumer preferences are global, and not restricted to Western or developed markets. It found, for instance, that almost 35% of those polled in emerging or developing markets reported that they buy sustainably produced goods. (Figure 1.)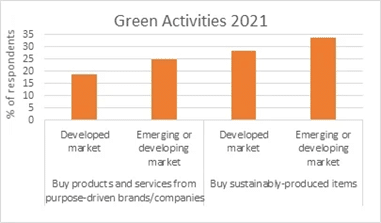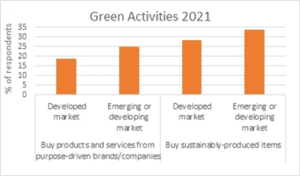 The Sustainable Market Share Index report, published by the NYU Stern School of Business in 2021, showed that the same shift in consumer preferences could also be seen among US consumers. The annual share of sustainability-marketed products there, for example, grew from 13.7% in 2015, to 16.8% in 2020. (Figure 2.)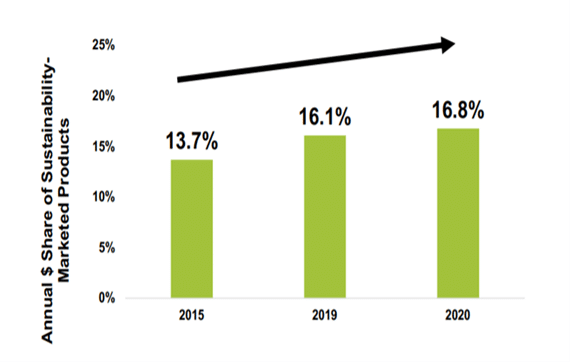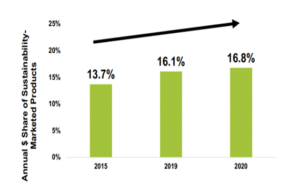 Covid-19's Impact on the Shift Towards Sustainability
Several surveys conducted in the wake of the pandemic have found that people are more concerned about environmental challenges because of the pandemic and are more committed to changing their own behavior to contribute to sustainability. Consumers are, as a result, reducing their household energy consumption, increasing recycling and composting, and buying more local goods.
In a recent BCG survey, 90% of consumers said they were equally or more concerned about environmental issues after the COVID-19 outbreak, while 87% of respondents felt companies should better integrate environmental concerns into their products, services, and operations.
In May 2020, research firm Kantar found that COVID-19 had led to a global surge in localism, with 65% of consumers responding that they preferred to buy goods locally (local products do not have to be shipped over long distances and therefore require fewer resources to bring to market, producing fewer carbon emissions in the process). November 2020 Data collected by data analytics firm GlobalData shows similarly that consumer perceptions have changed during the pandemic, with over 50% of respondents interviewed during lockdown claiming they found locally sourced ingredients more important than before the outbreak
Perhaps most interestingly, the COVID-19 pandemic has changed consumer perceptions and priorities with regard to sustainability. Prior to the outbreak, the term was used as a synonym for environmentalism. Now, however, consumers report expanding their definition of sustainability to include how companies treat employees and interact with their local community. 
Company Reactions 
Companies have had to make changes in line with changing consumer sentiments and have done so in ways that can be broadly categorized into four areas of action.
1- Addition of Sustainable/Ethical Labels
Leading food companies and retailers are growing their share of assortment with sustainable claims. Nestlé, for instance, has been purchasing more local and healthier food labels to offset declines in some of its mass-market brands. 
Another example is Dutch supermarket Coop's switch entirely to Fairtrade bananas. German retailer Lidl's has done the same across several European countries, and Nespresso has also expanded its sourcing of Fairtrade goods. 
2-ESG Commitments
Companies are increasing or shoring up their commitments to ESG policies and plans. Unilever, for instance, had already established sustainability goals that included net-zero emissions from its products by 2039, and investments of $1.1 billion in ESG-friendly initiatives over the next ten years. It recently added to these goals by announcing plans to label all its products with information on how much greenhouse gases they generate throughout the entire value chain of their production. 
Further examples include Zara's 2020 pledge to use 100% sustainable fabrics by 2025, H&M's recently stated commitment to achieving the same goal by 2030, and Adidas' commitment to phasing out virgin polyester by 2024.
Finnish grocer Kesko serves as another example, with its aim to become carbon neutral by 2025 and achieve net zero by 2030.
3-Sustainable Packaging
Other companies are increasing their focus on sustainable packaging, to reduce their use of plastics. Giro Pack, for instance, has developed compostable bags that are produced using plant-based or organic materials. 
In April of 2021, P&G announced that Old Spice and Secret deodorants would appear in plastic-free packaging in certain stores, as part of a 2030 goal to reach 100% recyclable or reusable. Nestlé has also reported strong progress on its commitment to make 100% of its packaging recyclable or reusable by 2025, and to reduce its use of virgin plastics by one-third, by that year. 
4-Social Impact Initiatives
Other companies have chosen to prioritize initiatives that aim to produce positive social impact. Germany's REWE, for instance, along with Portugal's Jerónimo Martins, launched initiatives to better integrate migrants into the labor market and promote intercultural cooperation.
Similarly, Swedish furniture giant IKEA recently broadened its social impact by committing to employ refugees at production centers in Jordan — part of the company's stated long-term goal to employ some 200,000 disadvantaged people around the world.
Outlook
Going forward, increased, and rising awareness, the influence of social media, and regulatory initiatives with regards to sustainability are expected to drive the market. While no company can expect to be immune from these influences, the pressure to act will be felt most keenly by companies operating in certain consumer goods sectors, such as food and beverage, and fashion. 
According to the Ethical Food Global Market Report 2021, the global ethical food market is expected to grow from $542 billion in 2020 to $574.42 billion in 2021, before reaching a projected $727 billion in 2025.
The global ethical fashion market is expected to show even greater rates of growth, going from $6,345.3 million in 2019 to $8,246 million in 2023, before growing further to $9,808 million in 2025 and $15,173 million in 2030. 
Smaller though significant increases in market size should also be expected across almost all categories of sustainably produced consumer goods, and if the shifts that have taken place over the past decade are any indication of the decade to come, the importance to consumers of sustainability will only continue to grow.  
Consumers have shown that they have become far more attuned to how brands speak and more importantly, how they behave. With consumers focusing more on sustainable, socially, and environmentally responsible consumption, companies will need to demonstrate that they've changed with the times. Only companies that can prove they meet the new, more ethical consumer standards will be able to thrive in a more sustainability-conscious world.
Author: Omar Elkayal
Sources: 
Mi3, 12-Oct-21, As Australia re-opens, brands truly delivering social good, localism and sustainability will roar ahead 
https://www.mi-3.com.au/11-10-2021/australia-re-opens-brands-truly-delivering-social-good-localism-and-sustainability-will
Euromonitor International, 20-Aug-21, Ethical Claim Potential Index Identifies Top Market
https://www.euromonitor.com/article/ethical-claim-potential-index-identifies-top-market
Boston Consulting Group, 11-Aug-21, Sustainability Matters Now More Than Ever for Consumer Companies
https://www.bcg.com/publications/2020/sustainability-matters-now-more-than-ever-for-consumer-companies
MarketResearch.com, 1-Aug-21, Global Ethical Food Market – 2021-2028
https://www.marketresearch.com/DataM-Intelligence-4Market-Research-LLP-v4207/Global-Ethical-Food-30031892/
ThinkwithGoogle, 1-Aug-21, How localism is driving brand engagement with consumers across the globe
https://www.thinkwithgoogle.com/consumer-insights/consumer-trends/localism-brand-engagement/
Euromonitor International, 1-Jul-21, Where to Play and How to Win? Mapping the Opportunity of Sustainability in Packaged Food
https://www.euromonitor.com/where-to-play-and-how-to-win-mapping-the-opportunity-of-sustainability-in-packaged-food/report
Mckinsey, 14-Jun-21, The path forward for sustainability in European grocery retail
https://www.mckinsey.com/industries/retail/our-insights/the-path-forward-for-sustainability-in-european-grocery-retail
Blend, 22-Mar-21, The Newest Fashion: Sustainability and Ecommerce Localization
https://www.getblend.com/blog/fashion-sustainability-ecommerce-localization/
NYU Stern, 1-Mar-21, Sustainable Market Share Index 2021 
https://www.stern.nyu.edu/sites/default/files/assets/documents/Final%202021%20CSB%20Practice%20Forum-%207.14.21.pdf
Mckinsey, 12-Feb-21, The ESG premium: New perspectives on value and performance
https://www.mckinsey.com/business-functions/sustainability/our-insights/the-esg-premium-new-perspectives-on-value-and-performance 
Mckinsey, 26-Jan-21, NEF Spotlight: The path forward for retail's sustainable future
https://www.mckinsey.com/business-functions/strategy-and-corporate-finance/our-insights/nef-spotlight-the-path-forward-for-retails-sustainable-future
Businesswire, 11-Jan-21, Global Ethical Fashion Market Report 2020: Opportunities, Strategies, COVID-19 Impacts, Growth and Change, 2019-2030
https://www.globenewswire.com/en/news-release/2021/05/11/2226889/28124/en/Global-Ethical-Food-Market-Report-2021-COVID-19-Impacts-Growth-and-Change-to-2030.html
Boston Consulting Group, 1-Jan-21, Are Consumers in the Gulf States Ready to Go Green?
https://web-assets.bcg.com/c6/4e/57c1320644f0b64e6c0bc25942a0/bcg-are-consumers-in-the-gulf-states-ready-to-go-green-jan-2021.pdf
GlobalData, 17-Nov-20, Localism will show high relevancy after COVID-19 pandemic has subsided
https://www.globaldata.com/localism-will-show-high-relevancy-covid-19-pandemic-subsided/
Boston Consulting Group, 14-Jul-20, The Pandemic Is Heightening Environmental Awareness
https://www.bcg.com/publications/2020/pandemic-is-heightening-environmental-awareness
McKinsey, 1-Jun-20, The State of Fashion 2020
https://www.mckinsey.com/~/media/mckinsey/industries/retail/our%20insights/the%20state%20of%20fashion%202020%20navigating%20uncertainty/the-state-of-fashion-2020-final.pdf
Fair Trade International, 10-May-19, Shoppers are demanding sustainable options – are companies getting on board?
https://www.fairtrade.net/news/shoppers-are-demanding-sustainable-options-are-companies-getting-on-board
NielsenIQ, 10-Jan-19, A natural rise in sustainability around the world
https://nielseniq.com/global/en/insights/analysis/2019/a-natural-rise-in-sustainability-around-the-world/
ATKearney, 1-Sep-18, Competing in an Age of Multi-Localism
https://www.kearney.com/documents/3677458/3679865/Competing+in+an+Age+of+Multi-Localism.pdf/42d71ac6-40b5-3bee-607a-2459b3ecec0a?t=1568061500000