Obstacles KSA will face in achieving their Saudi Vision 2030 plan
Saudi Arabia's Vision 2030, an economic diversification plan championed by the country's young crown prince, Mohamed bin Salman, has been designed to reduce the country's dependence on oil. The plan has been presented as simple; large investments in the private sector spur economic growth, create jobs and provide a new opening for the government to collect revenues. Generating jobs for aspiring young Saudi graduates is crucial in a country where nearly half of the population is under the age of 24. [note] According to the CIA World Factbook, 44.67 percent of Saudi Arabia's 28.57 million people is under the age of 24. https://www.cia.gov/library/publications/the-world-factbook/geos/print_sa.html [/note] Furthermore, focusing on decreasing the Kingdom's vulnerability to oil price volatility seems equally important considering that 50 percent of the country's budget is financed through oil revenues. [note] Feteha, Ahmed. 2017. "Key Figures in Saudi Arabia's 2018 Budget, 2017 Fiscal Data." Bloomberg Markets. December 19. https://www.bloomberg.com/news/articles/2017-12-19/key-figures-in-saudi-arabia-s-2018-budget-2017-fiscal-data [/note]
Newspapers are frequently reporting on the vision; however, their articles seldom address potential hurdles the kingdom might encounter along the way. By anticipating potential complications and pointing them out, analysts could contribute to assisting the vision's success. The following paragraphs discuss three questions that might impede the private sector growth envisioned in Vision 2030.     
How to decrease the salary gap?
It will be difficult to attract young Saudi graduates to the private sector if the government is unable to decrease the salary gap. According to the Financial Times, employees in the public sector earn 150%, on average, more as compared to their peers in the private sector. [note] England, Andrea and Heba Saleh. 2018. "How the Middle East is sowing seeds of a second Arab spring." In Financial Times. March 5. https://www.ft.com/content/a6229844-1ad3-11e8-aaca-4574d7dabfb6 [/note] The salary gap started to widen in 2011, when uprisings challenged Arab leaders all over the Middle East and North Africa. It remains unclear which options the Saudi government has to address this imbalance. Setting a high minimum wage for private sector jobs might discourage investors and entrepreneurs, crucial players in establishing a vibrant private sector. The Saudi government may have to stop raising public sector salaries to allow the private sector to catch up.
The difficulty of this proposition  was in full display in early 2018 when Saudi civil servants not only saw their annual pay raise restored, but were granted a monthly allowance of 1,000 riyals (250 USD) to cope with rising living expenses. [note] Shahine, Alaa, and Vivian Nereim. 2018. "Royal Handouts Cheer Saudis But Show Struggle to Revamp Economy." Bloomberg Politics. January 6. https://www.bloomberg.com/news/articles/2018-01-06/saudis-get-extra-pay-after-price-surge-sparked-public-complaints [/note] As Gregory Gause points out in his recent Foreign Affairs article, the move was a response to "public distress about the increased price of water, electricity, and gasoline and the imposition of the five percent VAT." [note] Gause III, Gregory F. 2018. "Fresh Prince. The Schemes and Dreams of Saudi Arabi's Next King." Foreign Affairs. March 19. https://www.foreignaffairs.com/articles/middle-east/2018-03-19/fresh-prince [/note]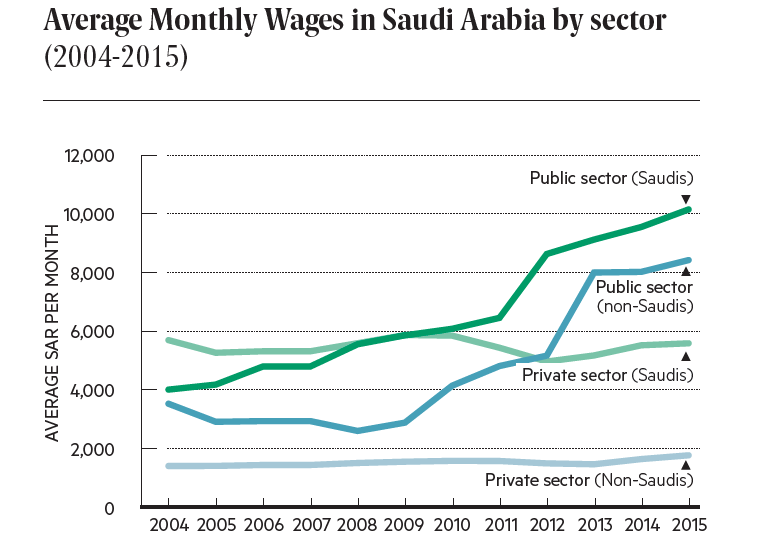 Will an oversupply of potential candidates prevent private sector pay from rising?
Attempts to decrease the public-sector workforce at a time when more young Saudis are entering the labor market, might prevent private sector salaries from rising rapidly. In total, there will be three major factors that will put downward pressure on private sector pay. Firstly, the cohort of young Saudi graduates that are entering the workforce is growing, increasing the supply of candidates for companies to choose from. Secondly, the public sector, currently employing two thirds of Saudi nationals, is trying to decrease its employee numbers; meaning that even as older Saudis retire the government will hire less young Saudis to replace them. This again puts pressure on the private sector, as it has to absorb a higher share of job seekers. And finally, the number of people competing for jobs might increase even further depending on how many women will try to enter the labor market. Allowing women to drive and improved workplace environments to accommodate their needs will encourage more women to apply for jobs and might very well increase their participation rate in the workforce above the 30% goal set by Vision 2030. [note] In 2015 women participation rate in the workforce in Saudi Arabia was 21.8 percent. https://data.worldbank.org/indicator/SL.TLF.TOTL.FE.ZS?locations=SA [/note] This last aspect not only applies to young Saudis, but to women across all age groups that were previously unable to take up jobs due to a lack of mobility.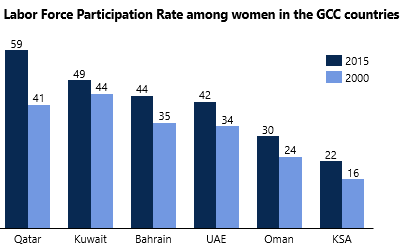 Will young Saudis accept private sector jobs?
Changing the perception among young Saudi nationals regarding work in the private sector will be challenging. In their 2016 Labor Market Report, the Ministry of Labor and Social Development pointed out that "Saudi nationals continue to view public-sector work as more prestigious than private employment." [note] Ministry of Labor and Social Development in the Kingdom of Saudi Arabia. 2016. "Saudi Arabia Labor Market Report 2016." 3rd edition. P. 13.  https://irp-cdn.multiscreensite.com/ff00f1f0/files/uploaded/G20%20Labor%20Market%20Report%202016%20-%20Final%20-%20Low%20res.pdf [/note] As long as the private sector is unable to offer competitive salaries, this perception might be hard to change. "Many Saudis view small and medium-sized enterprises (SMEs) as unattractive" the report continues, due to "lacking professionalism in their working conditions and practices". [note] Ibid. P. 13 https://irp-cdn.multiscreensite.com/ff00f1f0/files/uploaded/G20%20Labor%20Market%20Report%202016%20-%20Final%20-%20Low%20res.pdf [/note] Another thing SMEs lack is name recognition. In a society, where social standing has far-reaching implications, including finding a marital partner, the issue of prestige can't be taken lightly. As the number of Saudis graduating with a college degree is increasing, so are their expectations about their future workplace. Having had access to better educational institutions than their parents, young Saudis expect to do better than previous generations.