Navigating the future of autonomous vehicles
Autonomous vehicles (AVs), also known as self-driving or driverless cars, are becoming increasingly common on city streets around the world. The developers of these vehicles are striving to provide drivers with a safe, comfortable, and hands-free experience, pushing the boundaries of comfort and safety in road travel.
A driverless car relies on sensors, cameras, radar, and artificial intelligence (AI) to travel between destinations without a human driver. Its technology developers use vast amounts of data from image recognition systems, machine learning, and neural networks to build systems that can drive autonomously. This data includes images from cameras mounted on the AV that can identify any driving environment's components, such as traffic lights, trees, curbs, walkers, street signs, etc.
Automakers and technology companies are still far behind in releasing fully autonomous cars. Although there are no commercially available self-driving cars for individual buyers today, some vehicles currently offer advanced driver assistance features. There is some confusion about what today's cars are capable of and whether today's active driving assistance (ADA) systems, which automatically steer, brake, and accelerate under certain conditions, are considered self-driving.
Levels and types of AVs
The Society of Automotive Engineers (SAE) defines six vehicle driving automation system levels according to the degree of automation, ranging from Level 0, where vehicles have no automation, to Level 5, which represents full automation. Most vehicles on the road are at Level 1 equipped with driver assistance or Level 2 with partial automation, while some prototypes are at Level 3 or Level 4 with conditional and high automation, respectively.
Right now, we are at Level 2, with cars that can control steering, acceleration, and braking while still requiring the driver to remain engaged. In the future, Level 5 autonomy would mean fully driverless vehicles.
According to McKinsey & Company, the first Level 3 traffic-jam pilots or prototypes, in which autonomous systems control driving and monitoring in some situations, have already received regulatory approval in 2021.

Which vehicle segments could be autonomous?
New modes of transportation will emerge, primarily driven by factors such as what is being transported, the type of vehicle ownership, and where the vehicle operates. As of today, the strongest candidates to become fully automated are passenger cars, including private cars and shared autonomous vehicles, also known as robo-taxis or shuttles; the second segment is autonomous truck platooning. It is forecast that by 2040, there will be over 33 million driverless vehicles on the road.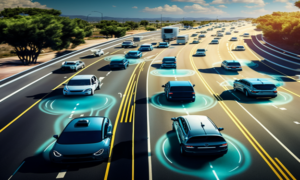 When it comes to the cost of shared autonomous vehicles, the cost per mile of a robo-taxi trip could be just 20% higher than that of a private nonautonomous car in specific contexts, depending on the segment, geography, and local conditions such as the city archetype. A robo-shuttle could be 10 to 40% cheaper than private, non-autonomous cars, though less convenient.
Another segment where full automation is close to becoming a reality is truck platooning, where a group of vehicles equipped with advanced technology travel together in a line at high speed. In a truck platoon, a lead vehicle is followed by the other vehicles at the same speed and maneuvers as the lead vehicle. Each vehicle communicates with the lead vehicle, which is in control.
These new transportation means, especially robo-taxis and shuttle mobility, can potentially disrupt our future mobility behavior and cannibalize the many miles people travel daily.
Global Autonomous vehicles Market size
According to an autonomous vehicle market forecast by Next Move Strategy Consulting, the global market for L1 and L2 autonomous vehicles reached nearly USD 106 billion in 2021 and is projected to reach over USD 2.2 trillion in 2030, growing at a CAGR of 35.6% from 2021 to 2030.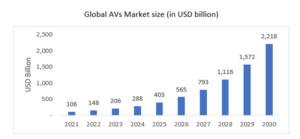 Asia Pacific is expected to account for the largest market share by 2030, followed by Europe and North America. The main factors driving the growth of the autonomous / self-driven car market are:
Increasing demand for a safe, efficient, and convenient driving experience
Rising disposable income in emerging economies; and
Stringent safety regulations across the globe
Autonomous Vehicles market players in 2023
Many companies are already conducting extensive testing of private AV cars, fleets of shared AVs, and AV trucks. The companies involved range from original equipment manufacturers (OEMs) and suppliers to tech players and start-ups.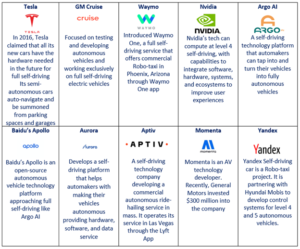 Autonomous Vehicles in the Middle East
UAE becomes the first in the Middle East and the second globally to test self-driving cars on the streets with the approval of a temporary license to test self-driving vehicles on the roads.
According to the Dubai Autonomous Transportation Strategy, launched by His Highness Sheikh Mohammad Bin Rashid Al Maktoum, Vice President and Prime Minister of the UAE and Ruler of Dubai, 25% of all trips on various self-driving transport means in Dubai will be driverless by 2030.
In April 2021, the Roads Transportation Authority signed an agreement with Cruise, a General Motors-backed company, to operate Cruise autonomous vehicles to offer taxi and e-Hail services until 2029. It is planned to reach 4,000 Cruise AVs in Dubai by 2030 as part of its efforts to enhance Dubai's pioneering role in self-driving transport and transform it into the smartest city in the world.

Can we see driverless taxis on UAE streets in 2023?
According to Dubai's Roads and Transport Authority, Cruise has sent two of its autonomous Chevrolet Bolt electric vehicles to Dubai to begin mapping the streets in the Jumeirah area, driven by specialist drivers using two Chevrolet Bolt electric vehicles equipped with sensors and cameras in preparation for a planned launch in 2023.
The technology uses a high-resolution map of the physical environment using several sensors, including LiDAR, cameras, and others. The cars were driven around the city to collect data, which can then be used to create a navigable map for Cruise's driverless vehicles to follow.
Dubai is aggressively integrating self-driving transport across all modes of public transport, from taxis and metros to buses and shuttles, and wants to set a global example for policy and legislation regarding self-driving transport.
Challenges and future of Autonomous Vehicles
Regulations and safety
According to a McKinsey survey conducted on 75 executives from automotive, transportation, and software companies working on autonomous driving in North America, Europe, and Asia-Pacific in December 2021, 60% of respondents viewed the need for regulatory support as the greatest requirement for autonomous driving; those in Europe were most likely to voice this sentiment. Notably, several European countries have launched independent efforts to create regulations. Different regulations have also emerged in China at the municipal level.
Technology barriers
The technology must be tested for many millions of kilometers before it can be fully commercialized. To achieve a 95% equivalency to a human driver, an autonomous automobile needs to travel around 291 million miles without causing any fatalities.
For instance, the first fatal accident happened in March 2018, when a Level-4 Uber prototype collided with a person crossing the street.
Lack of required infrastructure
In emerging countries, the development of IT infrastructure on highways is slow as compared to developed economies. 3G and 4G-LTE communication networks, which are required for connectivity, are limited to urban and semi-urban areas. Autonomous/ Self-driving cars require basic infrastructure such as well-organized roads, lane markings, and GPS connectivity for effective functioning.
We can conclude that the market size of autonomous vehicles is expected to grow rapidly in the next decade, reaching trillions of U.S. dollars by 2030 due to the expected expansion of autonomous vehicle levels. More than half of the new vehicles sold globally will be at least at level 3, while about 10% will be at level 4 or higher. North America and Europe may lead the adoption of higher-level AVs for personal use, while China and Asia-Pacific may dominate the market for robo-taxis and shared mobility services. Highway driving or parking may be more suitable for higher-level AVs than others, such as urban driving or off-road driving. This will be driven by technological improvements, regulatory support, consumer demand, safety benefits, and environmental concerns.
Do you think autonomous vehicles will be a reliable and safe option for everyday transportation without the need for a human driver?
Author:  Eman Abdelmohsen
Sources:
https://www.theguardian.com/technology/2023/feb/17/taking-ride-self-driving-car-nissan-servcity-autonomous-vehicles
https://www.mckinsey.com/features/mckinsey-center-for-future-mobility/our-insights/whats-next-for-autonomous-vehicles
https://www.techtarget.com/searchenterpriseai/definition/driverless-car
https://www.marketsandmarkets.com/Market-Reports/near-autonomous-passenger-car-market-1220.html#:~:text=The%20global%20autonomous%20%2F%20self%2Ddriving,automotive%20customers%20across%20the%20world.
https://www.statista.com/statistics/1224515/av-market-size-worldwide-forecast/
https://www.esquireme.com/gear/cars/dubai-cruise-driverless-taxis-2023
https://www.telecomreview.com/articles/reports-and-coverage/5651-uae-drives-the-future-of-mobility-and-autonomous-technology
https://www.rta.ae/links/sdt/sdt-final.pdf
https://techcrunch.com/2022/07/24/cruise-starts-mapping-dubais-streets-in-prep-for-2023-robotaxi-launch/?guccounter=1
https://ai4beginners.com/top-10-self-driving-car-companies-in-2020/
https://www.aitimejournal.com/autonomous-vehicles-companies-to-watch/
https://www.neusoft.com/Products/Automotive/2286/
https://www.mckinsey.com/industries/automotive-and-assembly/our-insights/the-road-to-affordable-autonomous-mobility
https://techcrunch.com/2022/07/24/cruise-starts-mapping-dubais-streets-in-prep-for-2023-robotaxi-launch/
https://www.telecomreview.com/articles/reports-and-coverage/5651-uae-drives-the-future-of-mobility-and-autonomous-technology
https://builtin.com/transportation-tech/self-driving-car-companies
https://www.theguardian.com/technology/2023/feb/14/amazon-tests-robotaxis-zoox-california
https://www.theguardian.com/technology/2023/feb/20/self-driving-vehicles-from-overseas-face-ban-in-england-and-wales
https://www.researchgate.net/publication/366986201_Autonomous_Car_Current_Issues_Challenges_and_Solution_A_Review
https://www.mckinsey.com/industries/automotive-and-assembly/our-insights/autonomous-drivings-future-convenient-and-connected
https://www.mckinsey.com/features/mckinsey-center-for-future-mobility/our-insights/whats-next-for-autonomous-vehicles
https://www.bbc.com/news/technology-60126014
https://www.forbes.com/sites/naveenjoshi/2022/07/22/5-ways-autonomous-cars-will-reshape-our-world/?sh=7b32995b589b
https://www.synopsys.com/automotive/autonomous-driving-levels.html