A Full Range of Outsourcing Research
Services in a Nearshore Model
Infomineo supports clients with information to support their business needs.
Whether you are conducting analyses, making decisions or developing a business, we can help with the intelligence.
why infomineo
Outsourcing business research to our team of highly skilled analysts with multi-lingual and multi-sectoral knowledge will give you a competitive advantage.
Working with Infomineo offers you the benefit of both regional and industrial expertise delivered in a cost-efficient and timely manner.

Insight-Driven Research
methodology
Using best practice research tools and methods, our research team is dedicated to delivering high quality research that is tailored to suit specific client needs. We leverage our team of analysts, databases and field force staff to perform both primary and secondary research.
Primary Research

To collect primary research, our analysts identify and contact industry and country experts through surveys and direct interviews.

Secondary Research


We perform secondary research by leveraging publicly available sources as well as using a suite of premium databases.
Compiling, Analysing and Packaging
Once primary and secondary research is collected, our research team analyzes its findings and
packages the data in the format requested by our clients.
we value transparency
Infomineo works in a completely transparent manner with its clients. We are dedicated to ensuring that our clients completely understand the methodology and process of how we are implementing their project. We regularly give them status updates and upon completion of the project, we provide an in-depth and detailed report on how our analysis was made and what resources were leveraged.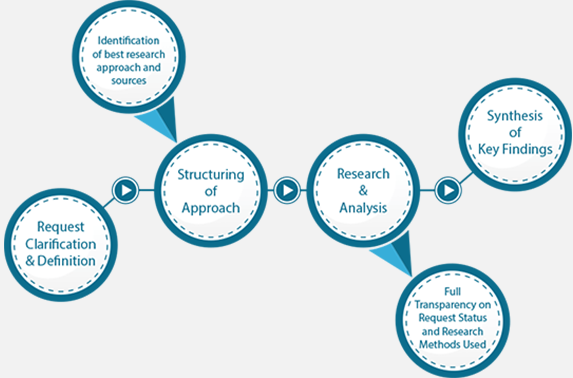 partnering with infomineo
We provide our clients with the flexibility to choose how to best incorporate our business research services into their work structure.