Impact of Russia-Ukraine War on Aluminum Industry
Aluminum industry in the global economy
The Russian military operations in Ukraine had a significant impact on many industries, including the aluminum industry. At the beginning of the year, global aluminum prices were already soaring, but the conflict surely exacerbated the situation in February.
Notably, the war has not only impacted the aluminum market but also various products in which aluminum is a vital component, from beverage and food cans to aerospace applications. These various applications are expanding and driving up aluminum demand year after year. As a result, the global aluminum market size has grown from 150 billion USD in 2020 to 152.3 billion USD in 2021 and is expected to reach 160.7 billion USD in 2022. Due to the anticipated growing demand, by 2027, the global aluminum market value is projected to reach 210 billion USD.
Global Aluminum Market Size (2020 – 2027), in billion USD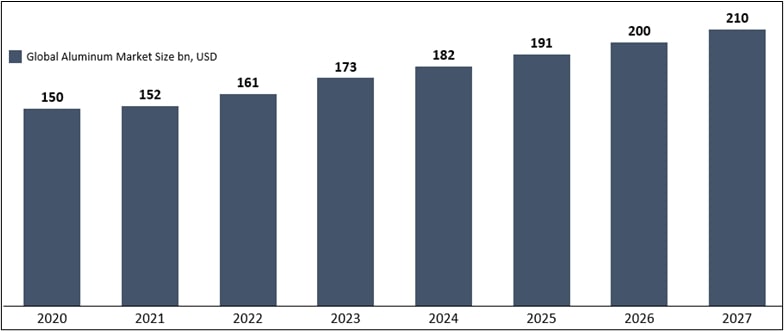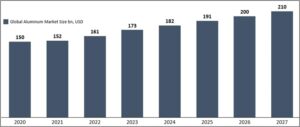 Note: the value from 2023 to 2026 are estimated based on Infomineo analysis (CAGR 4.9%).
The high demand for aluminum comes from its essential contribution to multiple industries, including packaging, automotive, and construction.
-In packaging, for example, the aluminum content represents 73% of the beverage cans by weight
-In the automotive industry, the aluminum share of vehicle weight is expected to grow from 9.1% in 2017 to 16% by 2028.
– In construction, the consumption of extruded aluminum (extruded aluminum is the major product used in construction) has grown from 30.7 million tons in 2020 to 33.4 million tons in 2021. It is forecasted to continue to grow to reach 3 million tons by 2025.
Major drivers of aluminum prices
Aluminum production involves multiple stages until the finished product can be used directly in different industries, including mining the bauxite ore, shipping to smelters, refining, casting, etc. Besides the demand-supply balance, there are many factors in these operations that affect the aluminum price, the most important of which are:
Raw material prices: The price of bauxite, as the aluminum-source ore, along with the raw materials used in aluminum production like alumina (refined bauxite), coke, pitch, silicon, magnesium, and caustic soda, all affect the price of the ready-for-shipping aluminum.
Shipping costs: Freight costs, particularly sea freight (containers), have a direct impact on raw material prices as well as primary aluminum prices.
Energy cost: the cost of power is deeply involved in aluminum production costs as one of the most energy-sensitive industries, accounting for 12% of the global industrial sector's energy use.
National policies and market dynamics: To regulate the market and adjust to national policy, producing countries use instruments such as tax cuts and rebates to respond to importing countries that apply anti-dumping taxes on imported aluminum products.
The war's impact on aluminum price drivers
The war pushed the price of aluminum to unprecedented levels. For example, the aluminum price on the LME (London Metals Exchange) with the three-month contract peaked at a record $4,000 a ton in early March 2022, compared to the $3,224 February monthly average of the same year. Market prices have recently declined as price hikes discourage demand, but even in May2022, aluminum trades at the $3,300 level, which is 40% higher than the previous year.
There are multiple factors that have impacted aluminum prices. Firstly, and most importantly, oil price spikes had a detrimental effect not only on aluminum, but on all commodities. The Brent oil price was marked at around $80 per barrel at the beginning of 2022, but the price jumped from around $96 per barrel on February 14th, 2022, to around $123 per barrel on March 7th, 2022. More than four months after the start of military operations, the Brent price remains around $120 (June 2022).
Secondly, supply chain disruptions due to the Russian invasion increased the cost of shipping operations. The ClarkSea Index (all shipping markets) shows a dramatic increase in the shipping rate from around $30,000 per 40-foot container by the end of January 2022 to over $40,000 in March.
ClarkSea Index in Thousands USD/day – all shipping markets


Finally, the impact of changing national policies on market dynamics should not be overlooked. Since aluminum is one of the biggest emitting industries, China's aim to achieve net-zero carbon emissions by 2060 has resulted in a reduction in China's aluminum output (the world's top producer). To compensate for the decreasing domestic output, China's aluminum imports surged dramatically. The war has reversed the equation. As natural gas and other energy prices skyrocketed, European aluminum companies reduced production, creating a metal shortage and a price gap of roughly $300 per ton between China and Europe. Also, since China has not imposed sanctions on Russia, the country has had access to cheaper energy and lower production costs compared to Europe. This created a profit opportunity when a trader buys Asian aluminum and resells it in Europe or the United States.
Secondary aluminum as a solution
As a solution to the difficult circumstances ranging from COVID-19 to the Russia-Ukraine war, the top aluminum producing companies focused their efforts on secondary (recycled) aluminum as a less expensive option during the difficult period. Several of the top 10 aluminum producers recently invested in secondary aluminum:
Rio Tinto (UK/Australia) – March 2022: Rio Tinto has commissioned a new remelt furnace at its Laterrière Plant, adding 22,000 metric tons of recycling capacity to its aluminum operations in the Saguenay – Lac-Saint-Jean region of Quebec. The $8.4-million project has been completed over two years to offer rolled product customers in the North American automotive and packaging industries a new sustainable supply solution combining low-carbon and recycled aluminum.
Alcoa (US) – April 2022: Alcoa has completed the installation of a new furnace in Norway that uses renewable energy to recycle scrap aluminum, saving energy and unlocking the infinite recyclability of our metal. The project stems from a collaboration between Alcoa and MMG Aluminum, a German-based metals trading company that supplies Mosjøen (Norway) with clean aluminum chips and shavings that have been compressed into briquettes. The induction furnace efficiently melts those briquettes and then pours out the recycled aluminum for blending with the smelter's low-carbon aluminum and other alloying materials, depending on the end-use applications.
Norsk Hydro (Norway) – May 2022: Norsk Hydro has announced a tender offer to acquire 100 percent of the shares of Alumetal S.A., based in Poland. Hydro describes that company as the second-largest producer of aluminum casting alloys in Europe. Alumetal has an annual production capacity of 275,000 metric tons at its three plants in Poland and one in Hungary. Hydro describes the company as experienced in the sorting of post-consumer scrap and says Alumetal is currently "constructing a new, state-of-the-art sorting line" for the scrap it melts.
The secondary aluminum market aids in reducing demand for primary aluminum. However, much more effort is required to reduce the recent metal price surge. This will eventually allow the global aluminum market to recover and restore normal conditions while mitigating the effects of COVID-19 and the war.
Author: Mohammad Sayed
Sources :
https://www.statista.com/statistics/1113683/global-aluminum-market-size/
https://www.aluminum.org/canadvantage
https://www.statista.com/statistics/892783/japan-aluminum-share-in-medium-sized-passenger-cars/
https://aluminiuminsider.com/aluminium-content-automobiles-account-16-curb-weight-2028-aluminum-association/
https://www.statista.com/statistics/1113623/global-aluminum-exports-by-country/
https://www.iea.org/reports/aluminium
https://www.eia.gov/todayinenergy/detail.php?id=38392#:~:text=Within%20the%20industrial%20sector%2C%20the,and%20other%20intermediate%20metal%20goods.
https://www.reuters.com/article/aluminium-rebate-idAFL3E7FC0WI20110412
https://asia.nikkei.com/Business/Markets/Commodities/Ukraine-war-turns-China-into-net-exporter-of-aluminum
https://www.westmetall.com/en/markdaten.php?action=averages&field=LME_Al_cash
https://www.statista.com/statistics/326017/weekly-crude-oil-prices/
https://markets.ft.com/data/commodities/tearsheet/summary?c=Brent+Crude+Oil
https://unctad.org/news/war-ukraine-raises-global-shipping-costs-stifles-trade
https://www.statista.com/statistics/280920/largest-aluminum-companies-worldwide/
https://www.riotinto.com/news/releases/2022/Rio-Tinto-commissions-new-aluminium-remelt-furnace-at-Laterrire-Plant-
https://www.alcoa.com/global/en/stories/releases?id=2022/04/alcoa-advances-sustainably-with-recycled-aluminum-produced-using-renewable-energy
https://www.recyclingtoday.com/article/hydro-alumetal-aluminum-recycling-norway-poland-acquisition/